Greetings friends! This is our first ever newsletter, and we're glad you're here! Whether you are a past, current or future client, a friend, and/or supporter of our business, we appreciate you. Our goal this year is to stay in touch with you and continue to do more of the wonderful design work that brings us so much joy and enhances the lives of those we work with.
I launched Tamara Heather Interior Design out of my home twelve years ago this summer. That means in grade-school terms, we're just finishing our senior year, woohoo! My son was four and home with me full time when I started the business. That was a challenge, trying to squeeze work in during his naps and episodes of Dora the Explorer. Now he's almost 16, and I only see his face at family meals or on the rare occasion I can get him to spend time with me. Fortunately he shares my love of Broadway, and we've been enjoying going to shows together. Some of our favorites are Hamilton, Hadestown and Come From Away. My son has nearly grown up in the lifespan of my business, and the business has grown up too. We've learned a lot along the way, and much like a senior about to graduate, I'm really excited for all the future holds.
Here is some our latest news, and updates from Tamara Heather Interiors.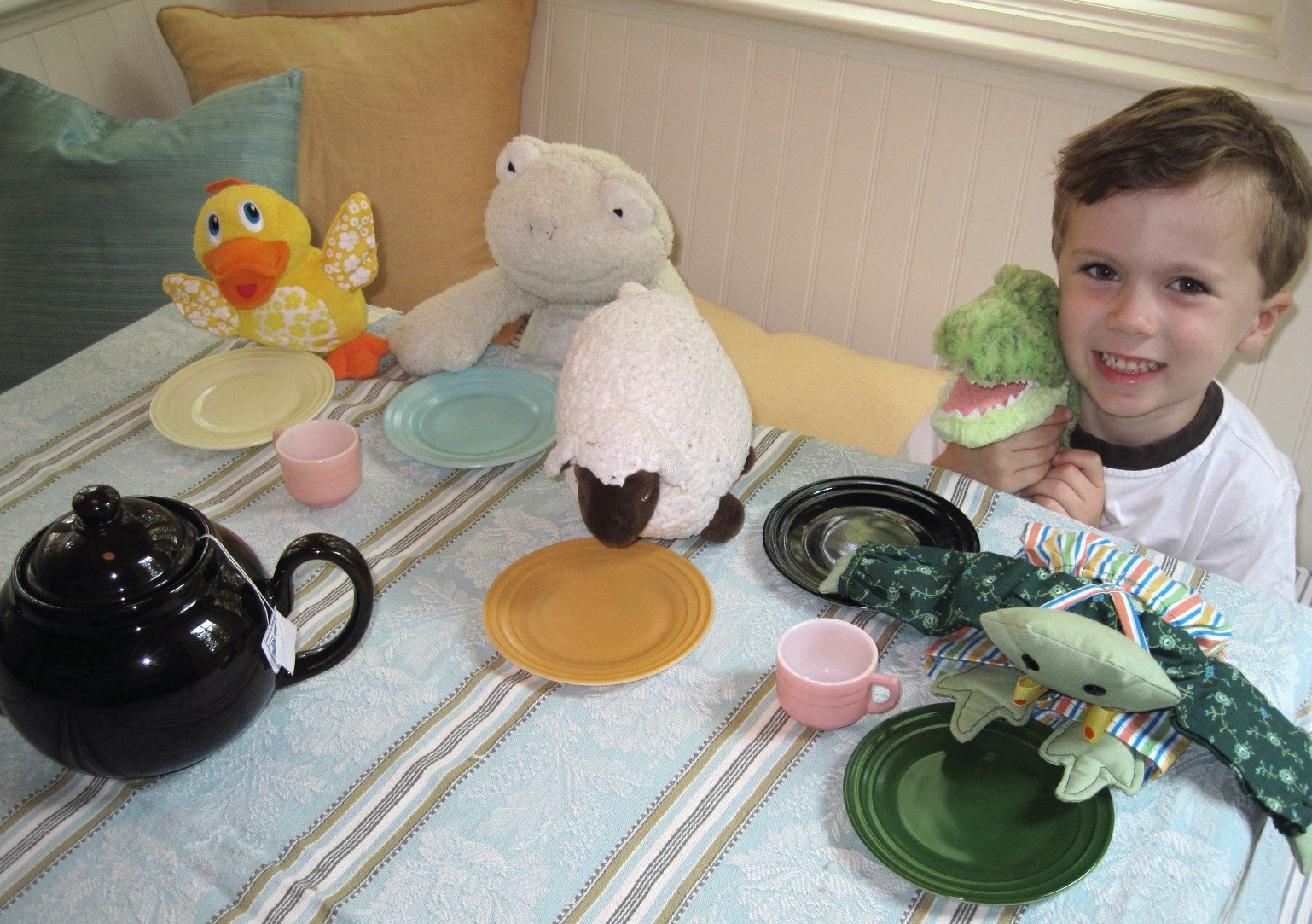 Summer 2011: My son and I had a tea party to celebrate filing my North Carolina business privilege license.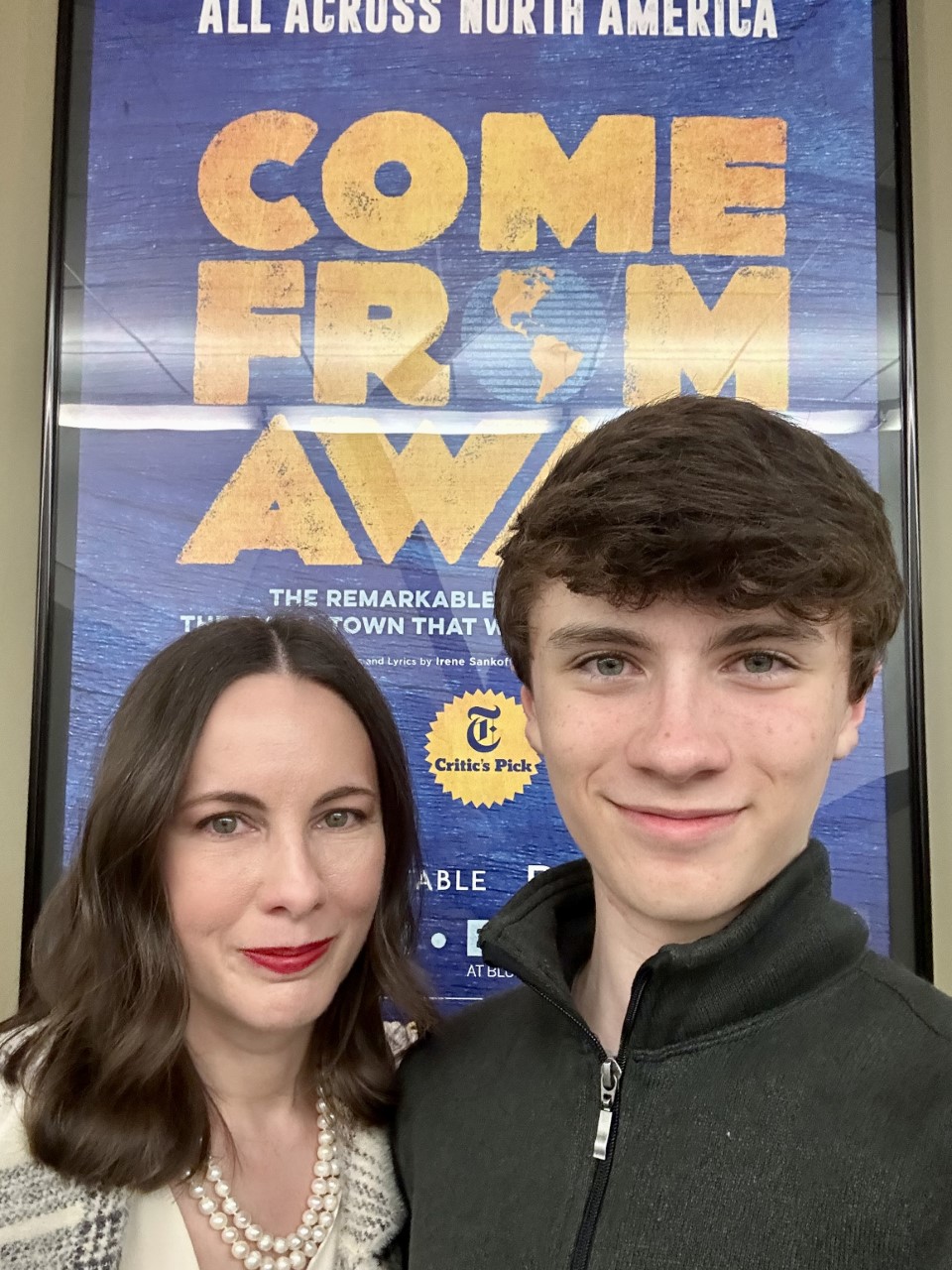 Spring 2023: My son and I saw the Broadway show "Come From Away".
NEW SERVICE OFFERING: Aging in Place Design
Over the past several years, we've seen an uptick in clients in the 55+ age group, interested in downsizing, and/or modifying their homes to allow aging-in-place. To serve these clients even better, we recently completed coursework and earned our certification as a Certified Aging in Place Specialist through the National Association of Home Builders (NAHB). This means we'll be able to provide design solutions that increase safety and accessibility, allowing clients to live independently longer. We believe our clients deserve comfort and style at EVERY age!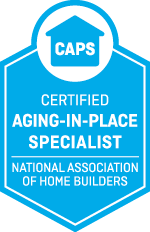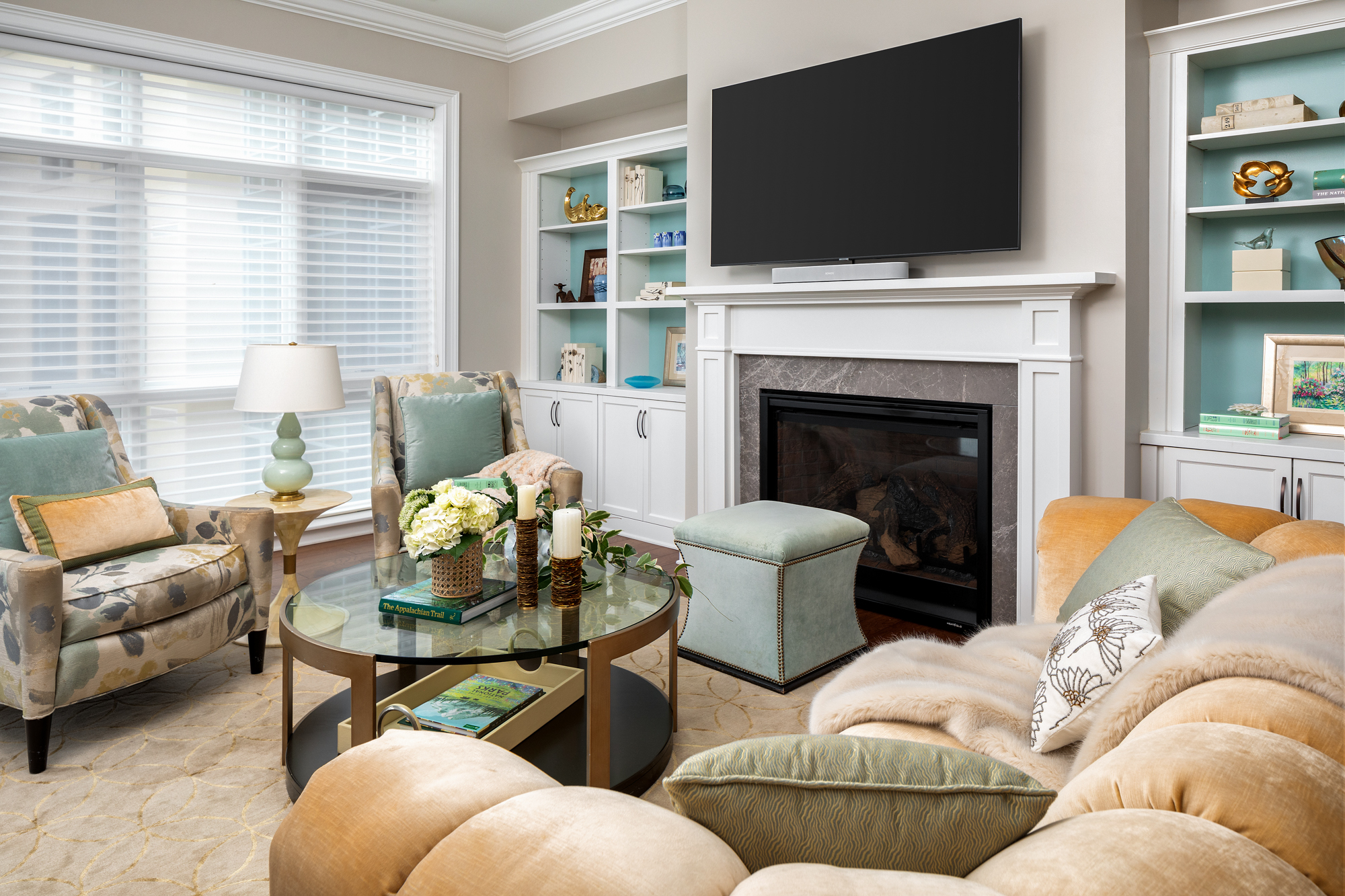 This elegantly colorful living room is an example of one of our senior living projects. When a client we'd worked with for years was ready to downsize, we helped her plan, furnish and decorate her new condo at Southminster Senior Living. Photo by Joe Purvis.
FEATURED IN CHARLOTTE MAGAZINE 
We were so excited for one our favorite projects to be featured in the December 2022 issue of Charlotte Magazine. The article, titled "Femme Den", shared this glam and sumptuous wine lounge we designed for a very stylish client. We love the rich jewel tones, and the stunning gold cocktail table (which actually rotates! so perfect for wine serving!). The refrigerated wine credenza houses our client's special bottles collected from travel to vineyards around the country.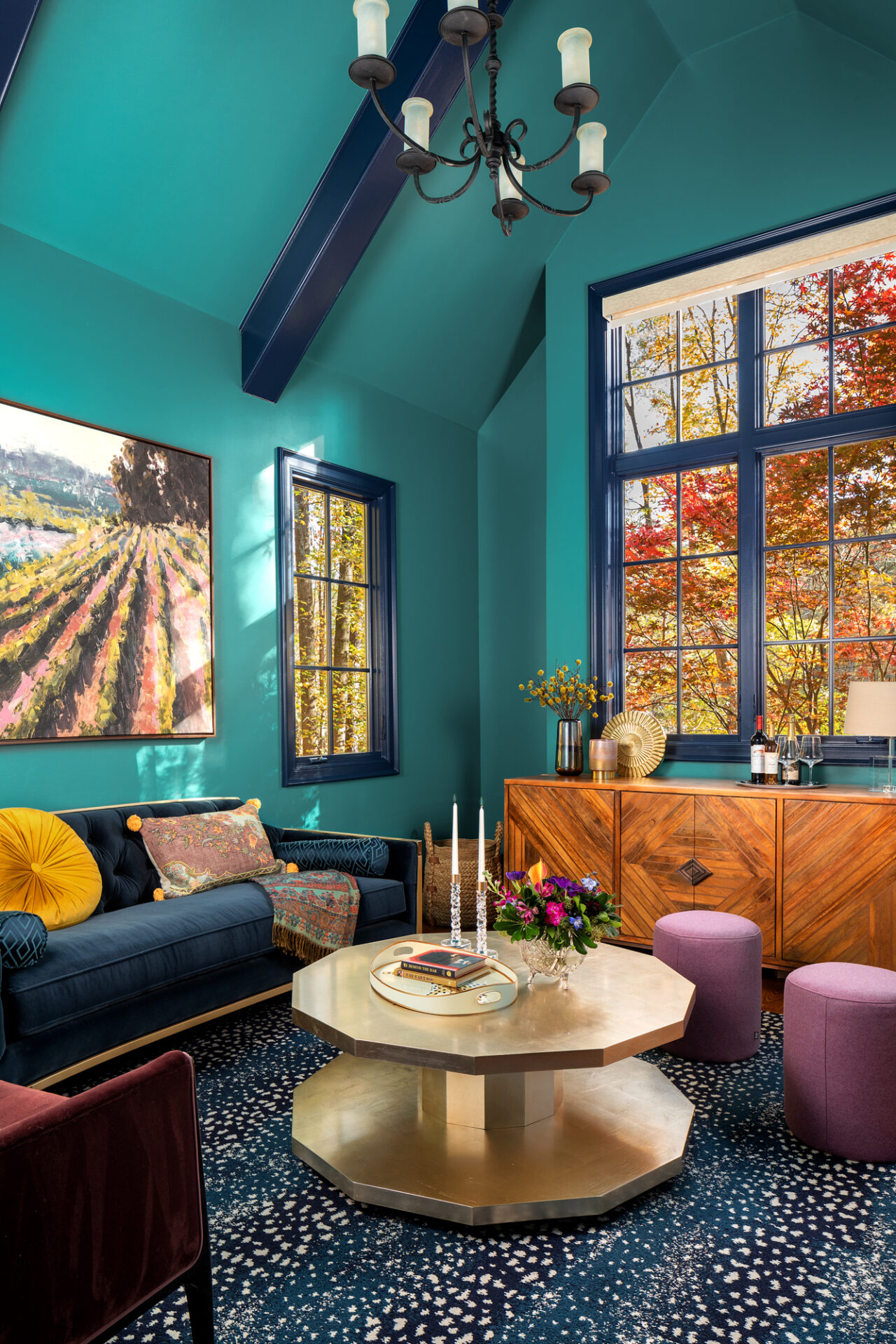 HIGH POINT MARKET – SPRING 2O23
High Point Market's bi-annual trade show gives us the chance to see, touch, and experience product in person from thousands of different furniture and furnishings vendors. We always have a great time seeing the latest trends and connecting with our designer friends from across the country.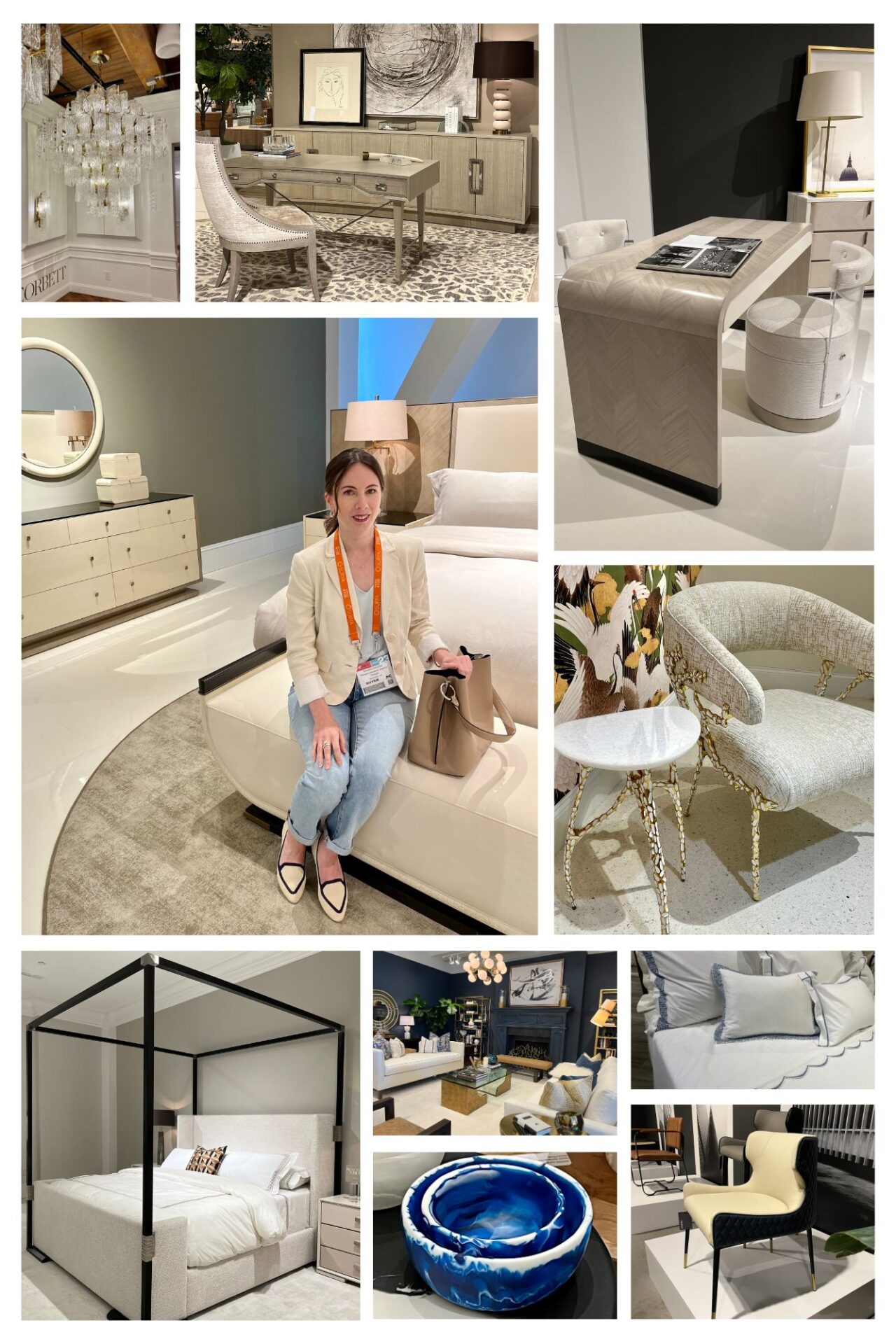 Another great benefit of attending High Point Market is the chance to attend educational seminars. A highlight for me was a seminar titled "Science in Design", which addressed the incredible power of thoughtfully designed interiors to promote physical and mental health and well-being. I've always known intuitively that our interiors play a major role in how we feel and function, and it's one of the reasons I'm very passionate and committed to the value I can bring into the world as an interior designer. But it's certainly gratifying to lean that this connection is being explored and validated through scientific research. A quote that stood out to me in the seminar was "Through design, we can help people be their best selves". I love that, and it inspires me to continue to do this important work, bringing beauty and comfort into our clients' lives.