Greetings, friends! If you are here reading this, you're either a new or long-time client, friend or supporter of our business, and for that, we greatly appreciate you! In all likelihood, we share a lot of the same interests – making spaces beautiful and personal, an interest in self-discovery, and a love of animals. How do I know you love animals too? Because you're good people, and good people love animals, they just do.
I'll get to the business updates in a sec, but first BREAKING NEWS, I recently discovered a PERFECT CHOCOLATE CHIP COOKIE here in Charlotte, NC. The cookie was found at Copain Bakery in Southpark. Slightly crispy along the edges, soft and gooey on the inside, with velvety dark chocolate chips and a browned butter flavor, with just the right hint of saltiness. YUM! They also have flaky buttery croissants and other French pastries, plus a warm and inviting cafe space.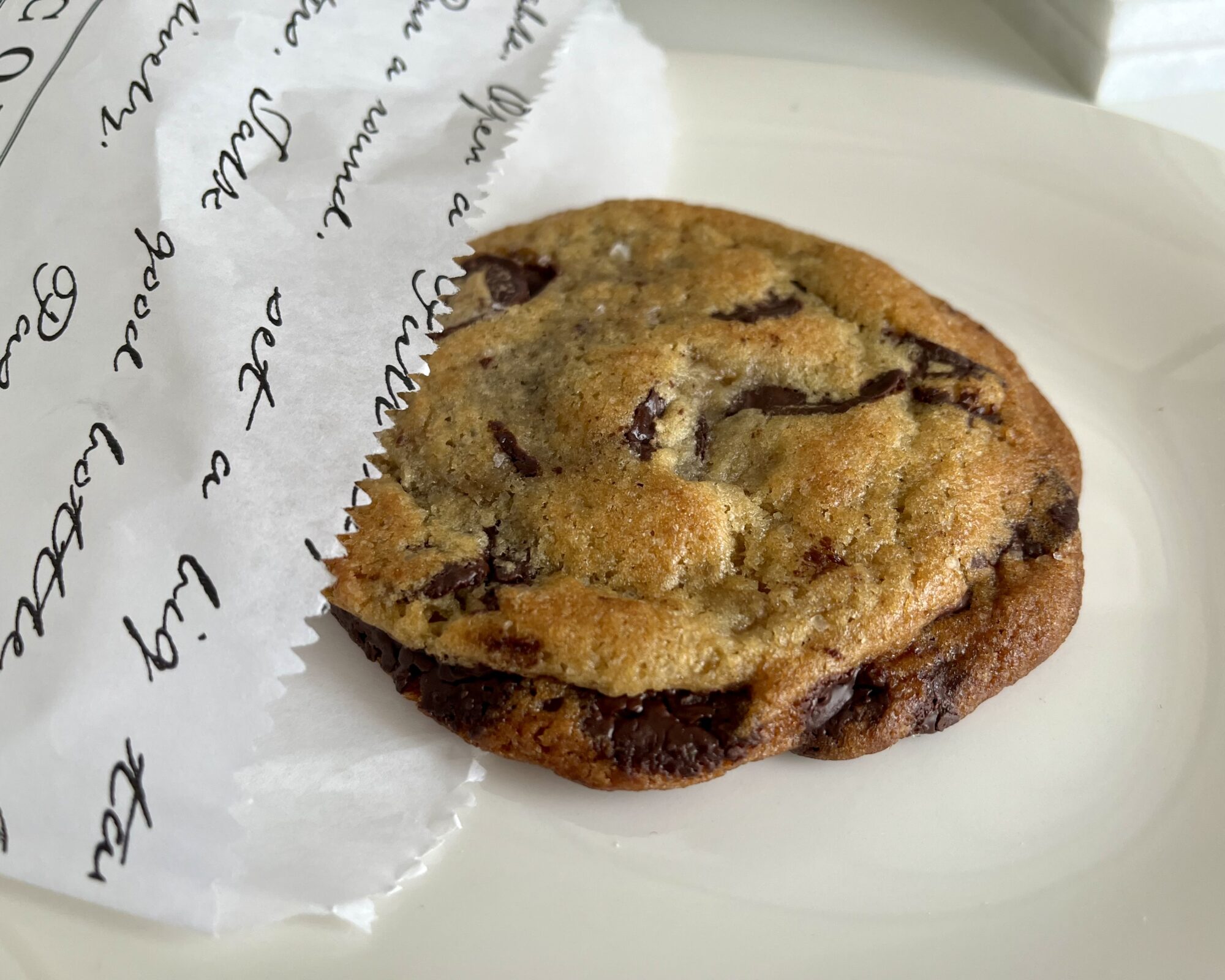 BREAKING NEWS: Perfect chocolate chip cookie discovered in Charlotte, NC.
Project Spotlight: Master Bath & 2nd Floor Remodel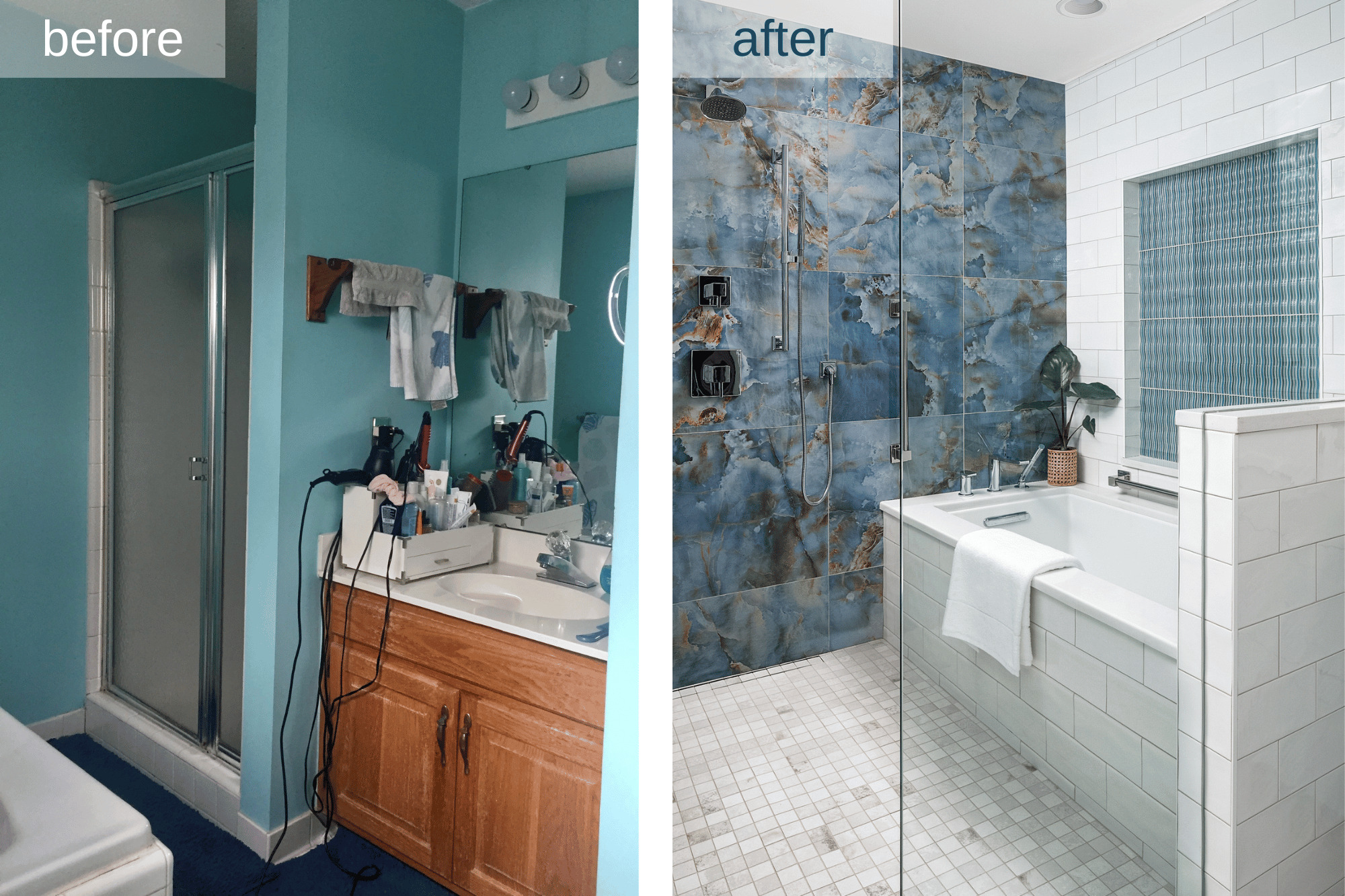 In this stunning transformation, we modified the layout of our client's master bathroom, opening up the space to create an airy feeling and built out a "wet room" combining the tub and shower. Zero-threshold entry into the bathing area and additional grab bars give the space greater accessibility and safety. A bright and fresh palette of watery blues and white lend the space a spa-like feeling, and that blue-onyx wall tile is a real showstopper!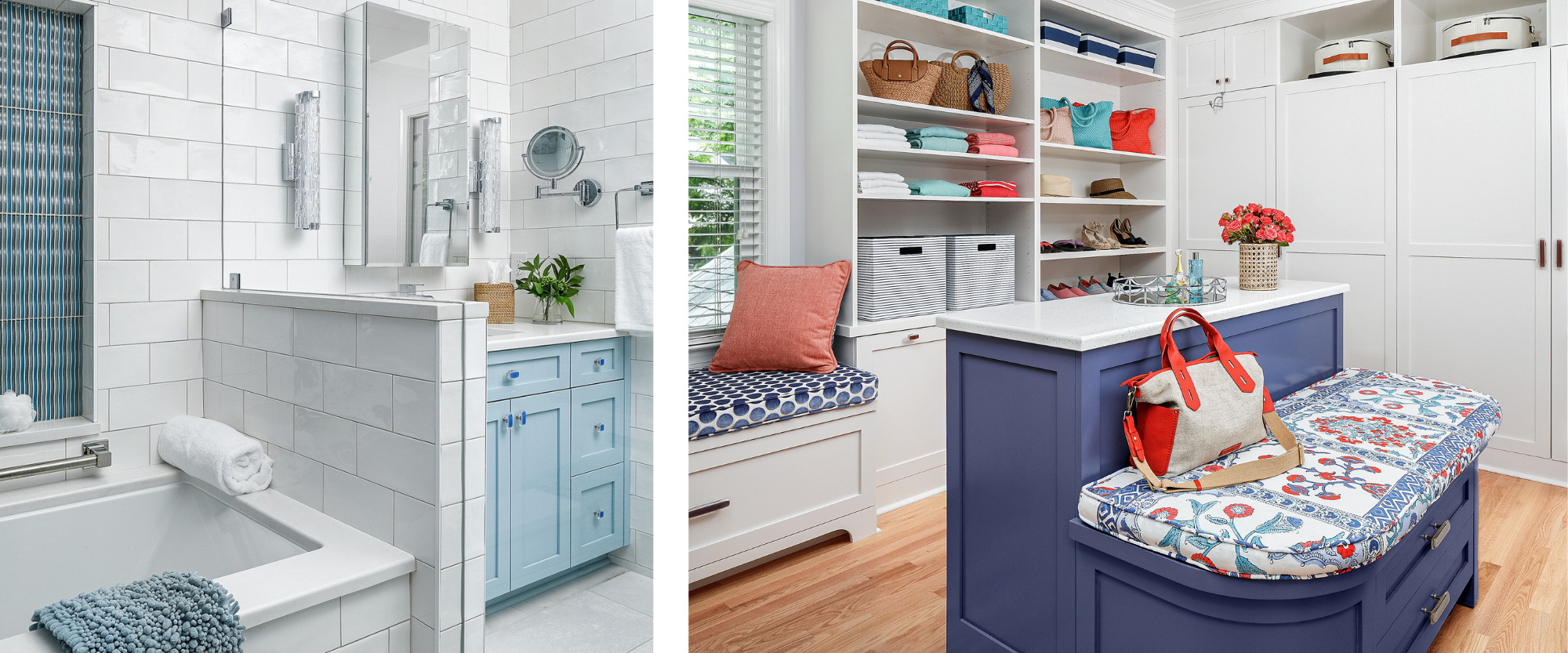 The master vanity was relocated into a spot that previously contained a small closet, which we more than made up for by transforming a secondary bedroom into a gracious master closet with laundry. The closet was fitted out with customized shelving, an island cabinet with bench and jewelry drawers, and a window seat. A color palette of blues and corals (our client's favorite!) give the space a fresh coastal-inspired look. 
HIGH POINT MARKET – FALL 2O23
High Point Market's bi-annual trade show is a great place to take in the latest trends and new products unveiled by furniture and furnishings manufacturers across the globe. We always walk away with at least one new vendor to add to our deep library of sources for furnishing our client's homes. This market we added TWO new favorites: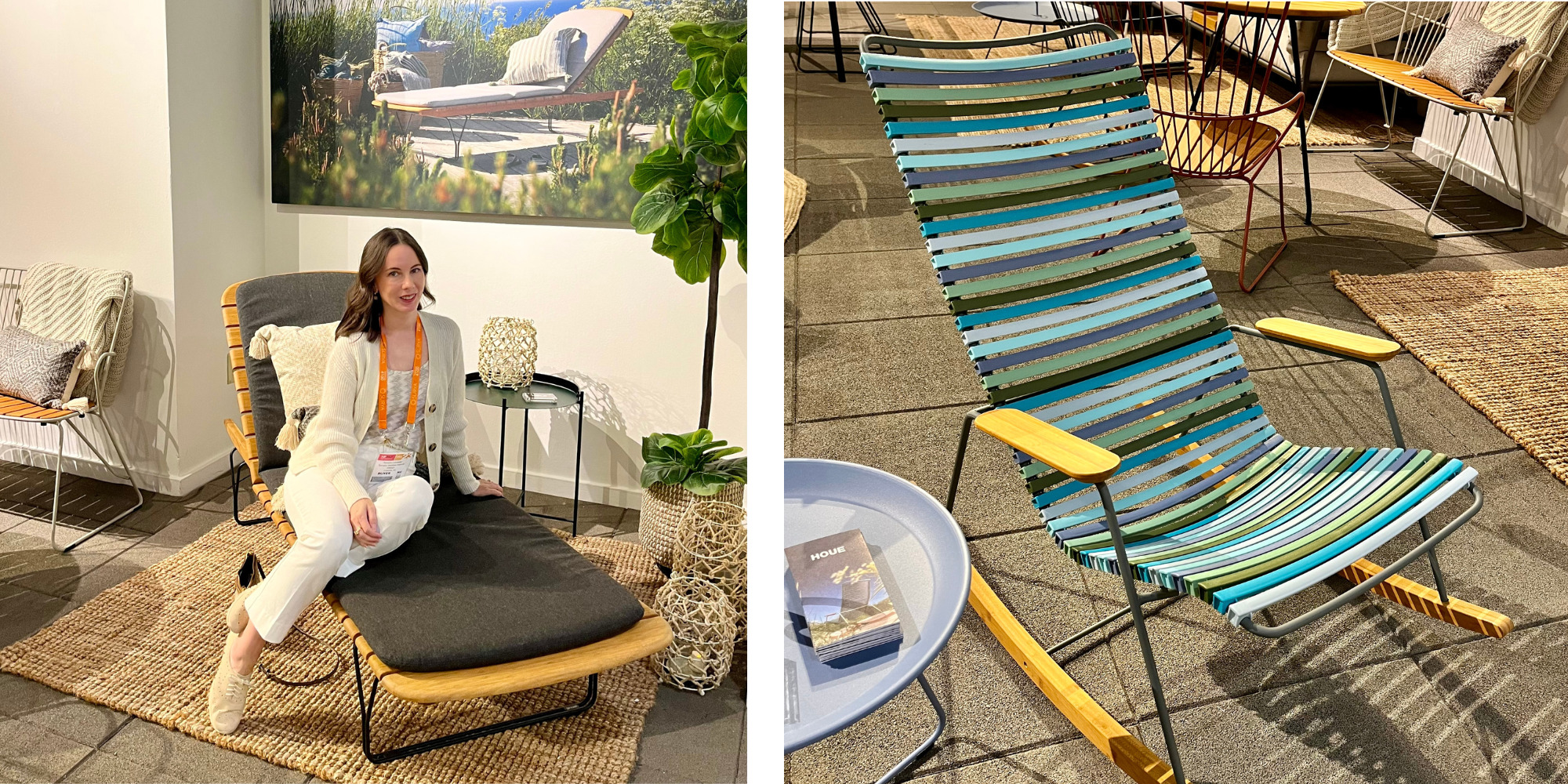 If you love the clean lines and modern aesthetic of Scandinavian design as much as we do, you'll love Danish furniture company Houe. They specialize in outdoor lounge furniture, including this teak lounger shown above. Their line includes rockers and dining chairs with interchangeable plastic slats that can be combined in custom color combinations, and easily snapped on and off for cleaning. So clever!

Modern-Asian artisan are the words we might use to describe Red Egg's unique line of furniture, lighting and accents. With an emphasis on bamboo and rattan, they create designs in geometric motifs that feel fresh and somehow bridge contemporary, historic, coastal and cottage styles. We can't wait for just the right client to come along who will treasure these beautiful pieces. 
My "Why" in Designing for Aging Adults
As shared in my last newsletter, earlier this year I obtained my certification as an Aging in Place Specialist (CAPS). A friend of mine recently asked why I decided to focus on this area of design and the specific needs of this client. Great question! The reason is twofold. One, I feel I can have a truly positive impact on the lives of older adults. It's rewarding to know I can help someone live in their home independently longer, through safe, accessible and carefully planned spaces. And, I love creating homes filled with meaning, beauty and personal selections unique to my clients, which supports mental health and quality of life. Second, I am incredibly inspired by my 55+ clients. Not only do they have stories to tell, but they are some of the most active and vibrant people I know. They are out there traveling the world, active in their communities, and exploring new passions. And they want to live in fresh, contemporary and stylish surroundings that match their youthful energy. That gives me energy in return, as as well as so much to aspire to!
– Tamara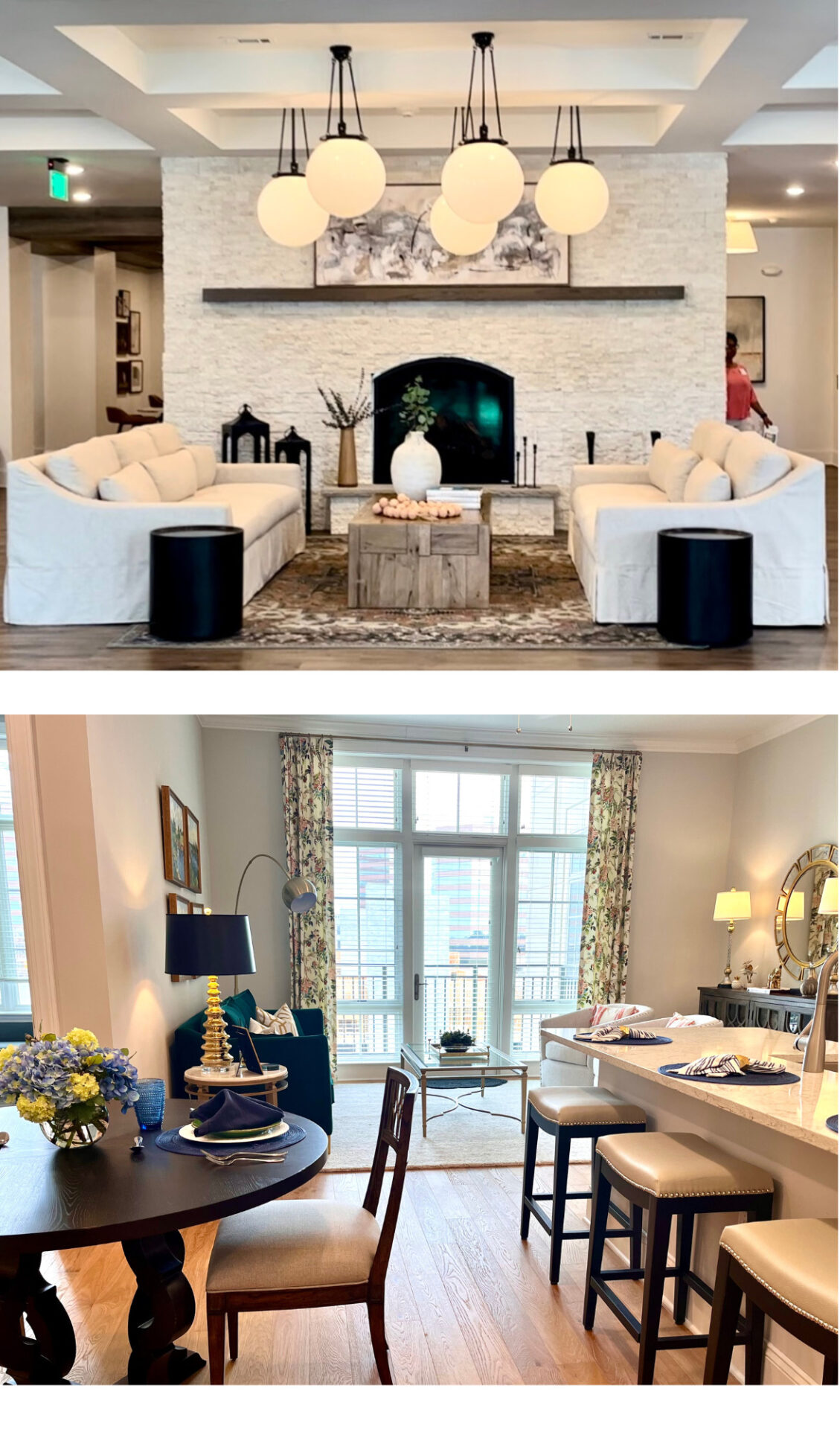 Interiors at Trevi Senior Living (upper) and The Barclay of Charlotte (below).