In 2008, with our then one-year-old in tow, we began searching for land in the mountains near Asheville, our first step towards realizing a long-term dream of a vacation home in the area. The house was finally finished, furnished, and decorated in 2014. The result is a refuge of peace and tranquility far from our bustling lives in Charlotte. I'm thrilled to have our mountain retreat, which we named "Seven Ridges" for the views, featured in an article on Houzz.com. Read the full article by Bryan Anthony by clicking the link here: A Modern Retreat in the Blue Ridge Mountains, or by selecting the Houzz slideshow below.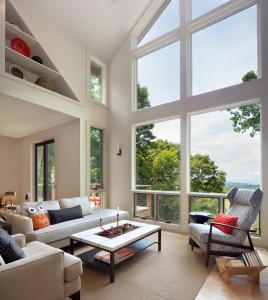 In addition to the credits given in the article, I would like to also give kudos to our wonderful builder, Anthony Roberts with Anthony Roberts Construction. Having a builder who understood how to execute contemporary design details and who listened and followed through on every detail was priceless. Between Anthony and his crew, and all of the artisans and craftspeople involved, we were fortunate to work with so many wonderful and talented folks in western NC who helped make our dream a reality.
Tamara Leicester is a licensed interior designer and owner of Tamara Heather Interior Design, LLC. She designs casually elegant interiors with an artistic sensibility, often drawing upon the talent of local artists and craftspeople in her work. Dreaming about updating your space? Learn more at tamaraheatherinteriors.com.