In early September I had the wonderful opportunity to participate in a "designers' tour" through Paris. Led by Parisian decor maven Deb Barrett, the tour granted access to specialty fabricators and studios and provided guided introduction to the Paris flea markets and the Maison et Objet home show. Considering that I also opted to tack on visits to the Louvre and Versailles, my week in Paris was an absolute visual feast.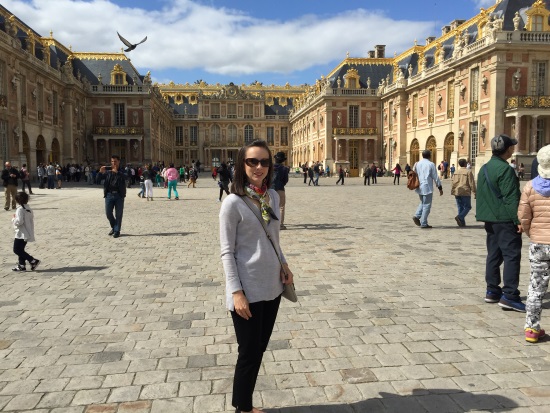 I think what makes France such a design destination, and inspiration to design lovers around the world, is its combination of historical wealth in the decorative arts and its continued commitment to producing finely crafted products. A walk through the decorative arts galleries at the Louvre, or through the Palace of Versailles (which is where I am in the photo above) is an education in design history. Even if you don't particularly love the period or style (and let's face it, how many people are designing their homes in Louis XIV?), there are many details, proportions, patterns, and color palettes that are ripe for inspiration and just as relevant today. Included in our tour were behind-the-scenes visits to three French studios who embrace France's rich design history as they create exquisitely crafted materials for today's home and fashion markets.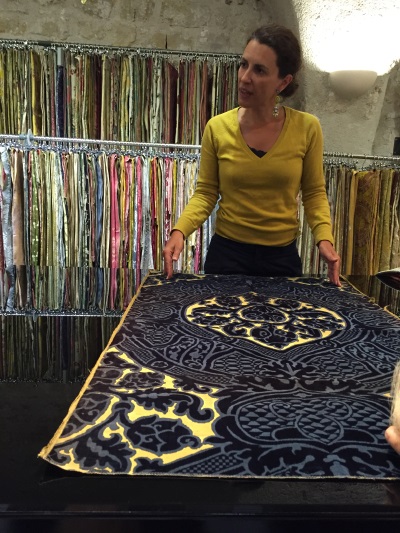 1. Pierre Frey
Perhaps no one understands the history of the French decorative arts so well as fabric house Pierre Frey, which is a manufacturer of high-end fabrics and wallcoverings. A company that has been managed by the same family for three generations, Pierre Frey bases many of its current designs on an amazing collection of historical fabrics that they've amassed over the years. Shown above is a spectacular blue fabric from the company's current collection – one of my personal favorites.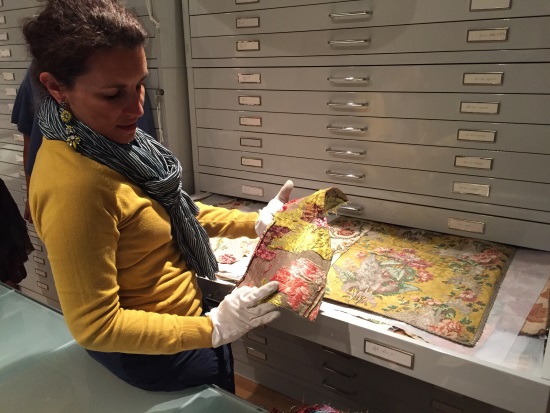 Our tour group was thrilled to be invited down into the Pierre Frey archives, where we were shown drawer upon drawer of historical fabrics dating back to the 17th century.We were amazed by the vibrancy of this yellow Louis XV fabric (approx. 250-300 years old).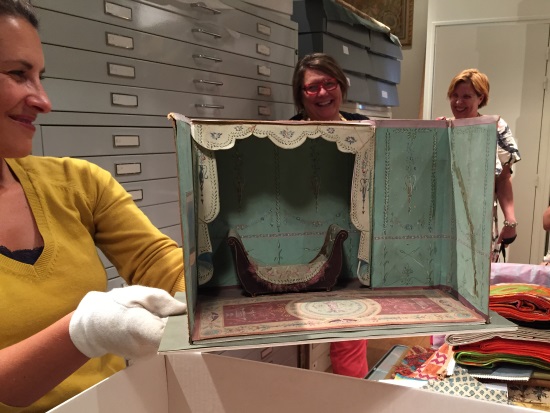 Here, we are delighted by this original design model for a train cabin built for Napoleon III. I'm trying to imagine having to create dioramas like this for my client projects. Thank goodness for CAD and Sketch-Up is all I can say!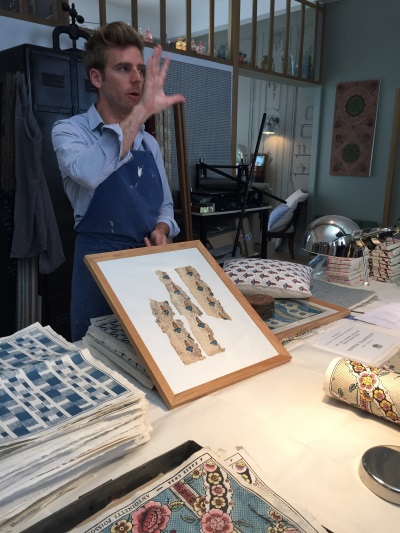 2. Antoinette Poisson
Another Parisian company looking to French history for inspiration is print design studio Antoinette Poisson. Specializing in hand-blocked and hand painted wall papers, the designs are based on vintage wallpapers, fabrics, and even book linings, which they have collected from flea markets and auctions. In the photo above, designer Jean Baptiste shows us remnants of a vintage wallpaper that has been framed and preserved. You can see that next to it on the right is a pillow in a fabric they've created based on that same print.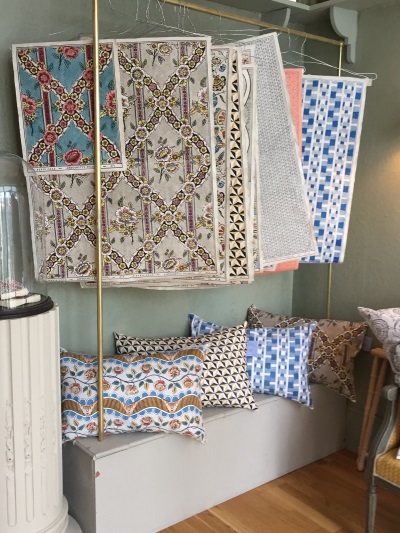 Shown above are several wallpaper and fabric prints from Antoinette Poisson's current collection. Designs range from Marie Antoinette-inspired florals to Moorish-influenced geometrics that actually read quite modern. The wallpapers are sold by the sheet, each roughly the size of a piece of legal paper. At about $45 per sheet, an entire room done in one of these wallpapers would be spectacular (and spectacularly expensive), but I think they could be used to great effect in a small accent area or even framed individually as art prints.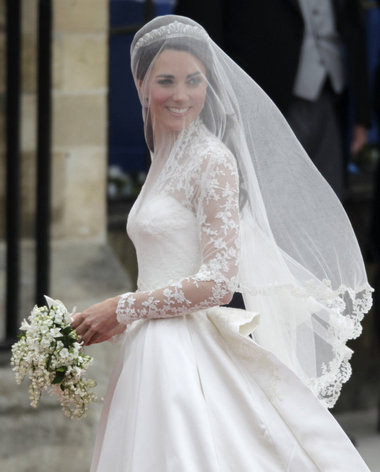 3. Sophie Hallette
How can anyone forget the stunning gown worn by Kate Middleton at the royal wedding? Designed by Sarah Burton for Alexander McQueen, the lace in her gown was actually created by Parisian lacemaker Sophie Hallete.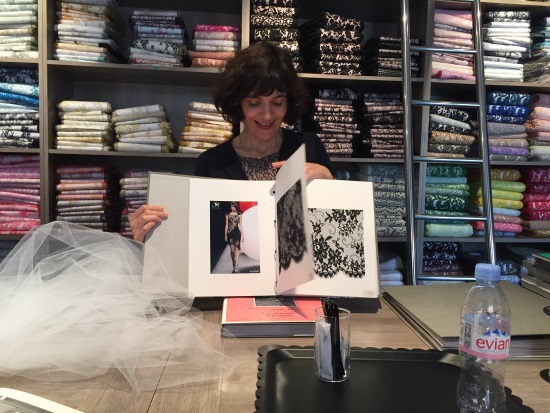 It was thrilling to visit the Sophie Hallete showroom and see bolt upon bolt of luscious laces in every color and pattern imaginable, as well as, of course, the very lace Kate herself made famous. Following a centuries-old tradition, Sophie Hallette's artisans train for up to seven years to become skilled in lace-making. The lace is still made using antique iron looms and bobbins, and each design can take up to four months to produce.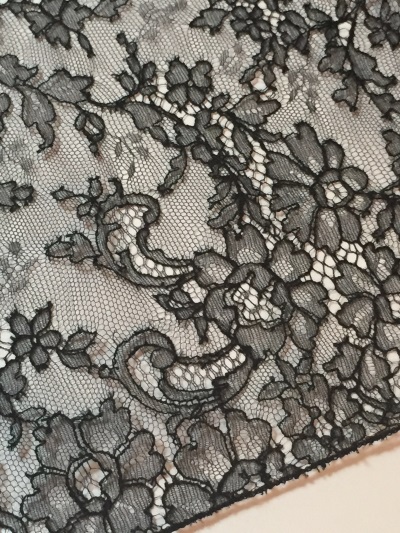 Although Sophie Hallette's laces are most commonly used by big-name fashion houses for couture creations, there are obvious applications in home decor as well. I can imagine making some seriously dreamy window treatments. Of course, probably NOT in a household with cats! The close-up above shows the amazing detail in one of Sophie Hallette's laces – it's actually a scarf which I was able to purchase for myself at the showroom, and a cherished souvenir of my design tour of Paris.
I have more to report from my design tour, especially some great insights on trends and a color forecast from the Maison & Objet show, but the rest will have to wait for another day. A bientot!
——–
Tamara Leicester is a licensed interior designer and owner of Tamara Heather Interior Design, LLC. She designs casually elegant interiors with an artistic sensibility, often drawing upon the talent of local artists and craftspeople in her work. Dreaming about updating your space? Learn more at tamaraheatherinteriors.com.