If you're fairly new to DIY decorating, a guest bedroom is the perfect place to start. I am currently learning to ski, and in skiing terms I would rate guest bedrooms an easy, green circle level. The reason for this is that while you can play around with color and style, the main ingredients in a guest bedroom are fairly constant. Here are the basics every comfortable guest room should have: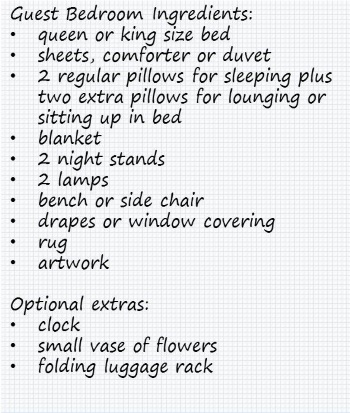 The layout of a guest room is usually pretty straightforward. The main decision is where to place the bed in the room. Ideally you want the bed to be placed so that it is perpendicular to the entrance as shown in the plan below. But if the bed has to be facing the doorway, try to offset the bed from the door as much as possible for your guests' privacy and comfort.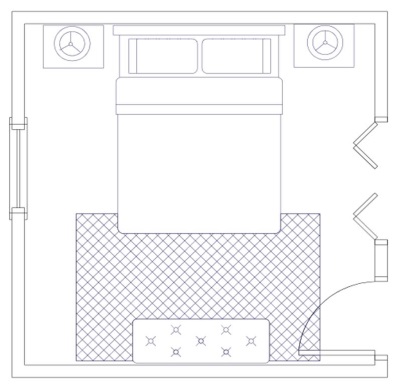 The wall where your headboard goes is your focal point wall. This is the location to put some lovely art or other visual display (a textile wall hanging, an interesting shaped branch, or a vintage sign are other alternatives). Next to the bed of course go the nightstands and lamps. They don't have to match but I will advise that matching is *easier* if you are a DIY beginner. Getting mis-matched to look right is more advanced level decorating. In skiing terms it's blue square at least.
If the room doesn't have carpet, you might add a rug. The rug can either be a large one that goes all the way under the bed and past the night stands to either side, or a small one just at the foot of the bed as shown in the photo above. Accent seating goes at the foot of the bed or across from it, just somewhere convenient for guests to put their shoes on. If the room is large enough you could add extra furniture like a desk or dresser.
Don't forget to consider privacy for your guests with window coverings that can be drawn closed and shade the sunlight for good rest. And thoughtful little extras like a clock, folding luggage rack, and extra pillows and blankets will make your guests' stay more comfortable.
If you have never taken on re-decorating a room from start to finish, a guest room is a fairly easy and low-stakes place to start. Winter may be over but decorating is year-round, so I hope this post inspires you to take to the slopes of decorating, at least the bunny slopes. It's fun, I promise.
——
Tamara Leicester is a licensed interior designer and owner of Tamara Heather Interior Design, LLC. She designs casually elegant interiors with an artistic sensibility, often drawing upon the talent of local artists and craftspeople in her work. Dreaming about updating your space? Learn more at tamaraheatherinteriors.com.