Not too long ago, a client of ours called to inform us she planned to downsize and move into a senior living community. Though she hated the thought of leaving the beautiful home we'd designed together, she explained it was the right time and right decision for many reasons. But, transitioning from a single-family home to a smaller condo meant that a lot of planning and decisions had to be made. One of her biggest concerns: could we help her personalize the new place, and map out a plan for which furnishings to bring over to the new condo? Absolutely, we said!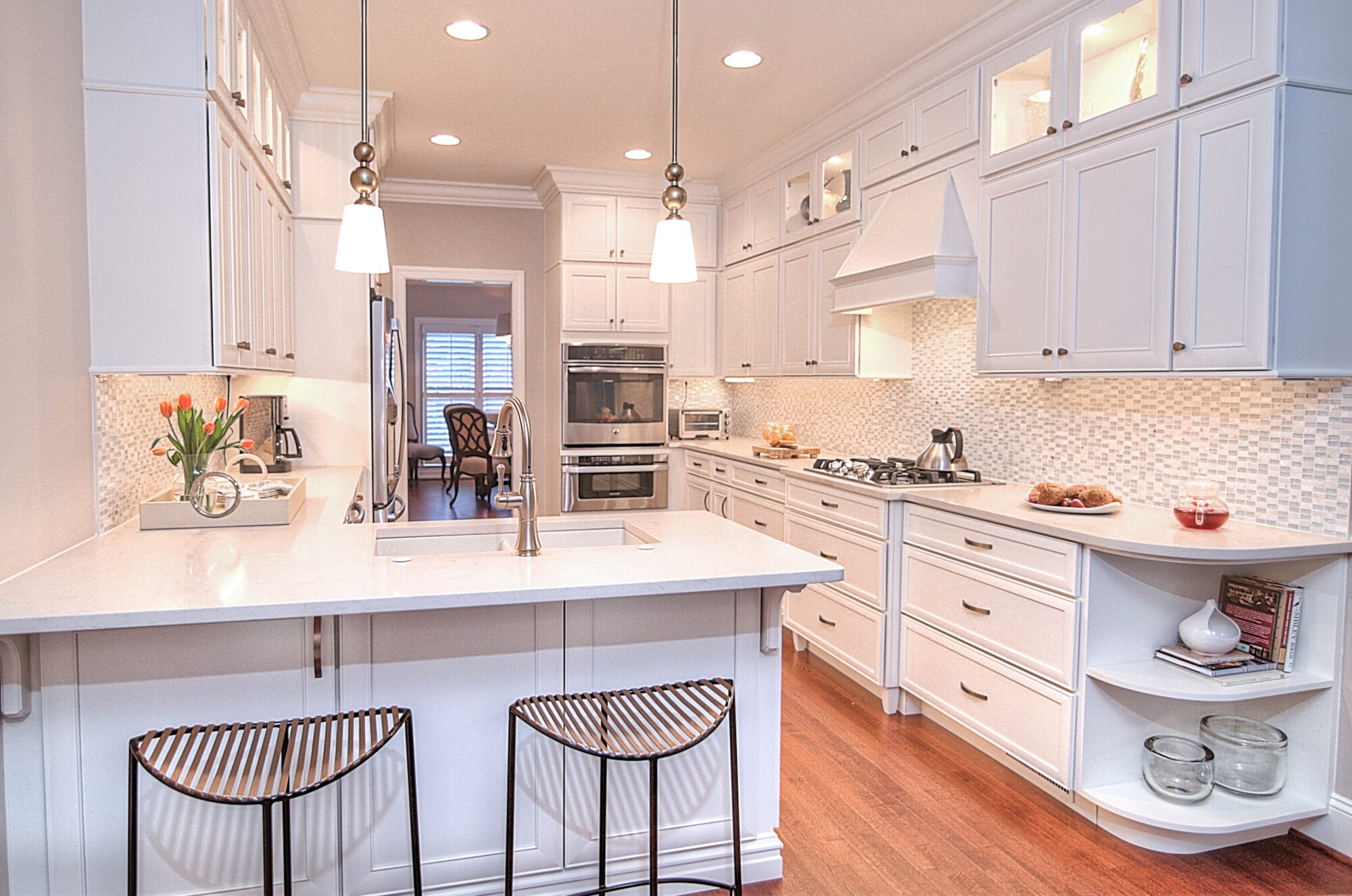 This is the kitchen we designed for my client's previous home, prior to her downsizing.
Customizing the finish & fixture selections
The condo our client purchased was going to be built in a new multi-unit building being constructed in an upscale senior community in Charlotte. This meant we had the opportunity to select the interior finishes, such as tile, countertops, light fixtures, and paint colors. Knowing her style quite well by that point, we were quickly able to zero in color and material choices that would integrate seamlessly with the colors of her existing furnishings. We kept the kept most of the choices bright, warm and neutral, to help the space feel spacious and inviting. We selected  a creamy quartz for the countertops, white glass mosaic tile for the backsplash to add brightness and subtle pattern, and chose a light taupe for the main paint color. To bring in an unexpected detail, we painted the back of the built-in bookcases my client's favorite color: a chic duck egg blue.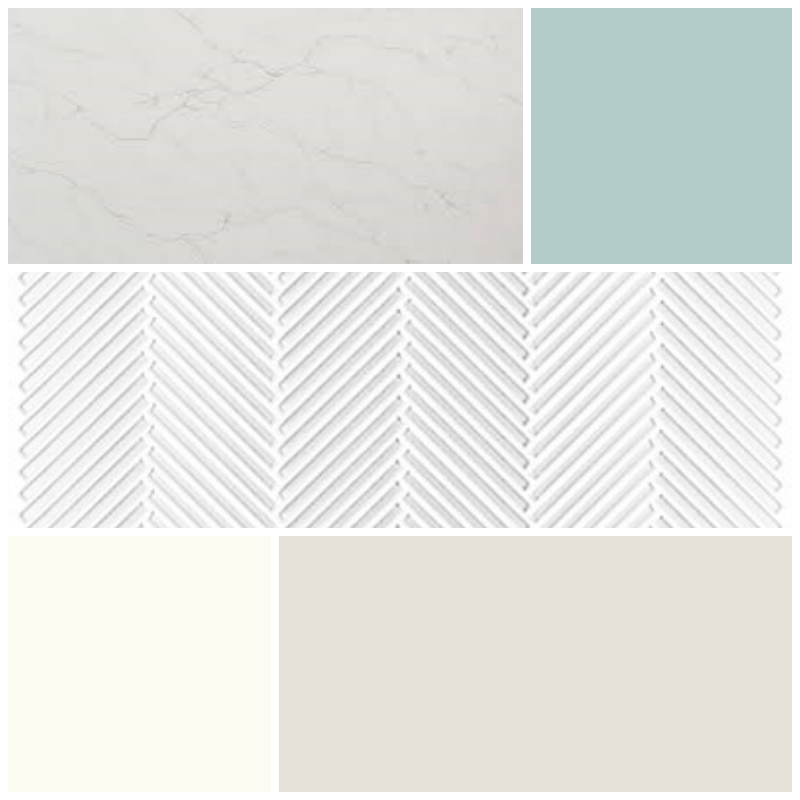 For the new condo, we kept the palette similar to my client's previous home – taupes and creamy whites with duck-egg blue accents. This ensured the new space would accommodate many of the beautiful things we'd selected together over the years.
Making decisions about furniture: what to keep and what to let go
While the condo was under construction, we had time to work to on space plans. We talked through which of her existing furniture would work in the new layout, and which new pieces were needed to complete the space. Referencing the new condo footprint, we drew up a floor plan showing the size and placement of her furniture. The great news was that she was able to re-use many of the pieces from her previous home, including her sofa, armchairs, rugs, coffee table, desk, and bedroom furniture. The new place didn't have a formal dining room or guest room (she opted to use a second room as an office instead), so she was able to let go of the larger dining table and chairs, and guest bedroom furniture. We agreed to source her a smaller dining table for 4, a console table, and a few miscellaneous lamps and accessories. Fortunuately we were able to find suitable spots in the new place for much of the art we'd purchased for her over the years. 
Mapping out the move
Prior to her move, we provided a numbered floor plan notating each piece of furniture and art, and specifying the placement of each within the apartment. This made it easy for the movers to know exactly where to put everything. Once the big pieces were in place, we hired an installer to come hang the art at the right heights, and had the new furniture delivered.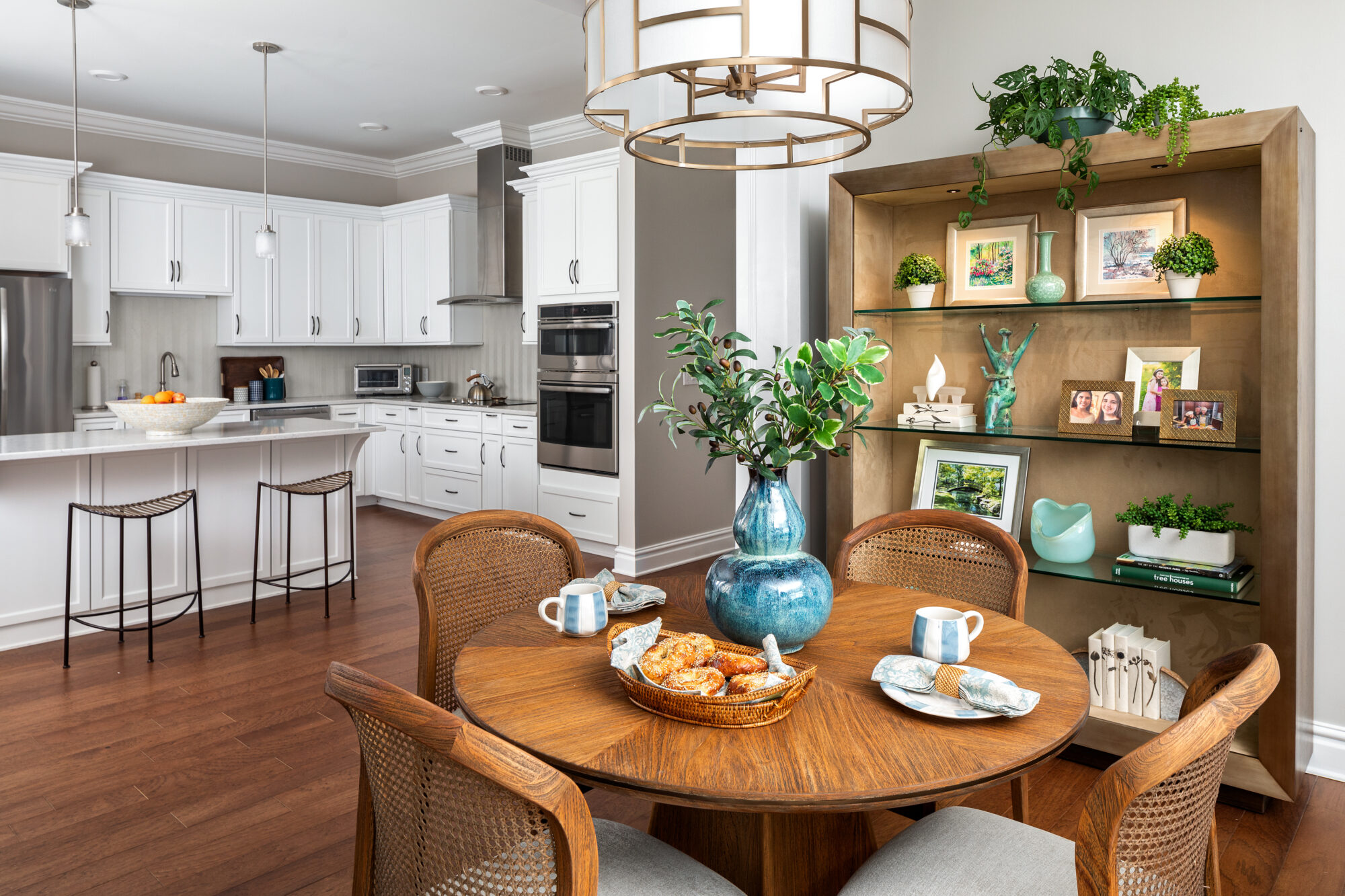 We sourced a new round table in a weathered oak finish, with four cane-back chairs. The starburst pattern of the table top and the caning in the chair backs provide an elegant detail that perfectly complements my client's style.
Finishing details
We spent an afternoon styling our client's bookshelves and display case, which are filled with personal mementos and special finds that exude her elegant, refined style. The final touch was installing gorgeous wall paper in our client's foyer and master bath. Wallpaper is such a great way to give character and richness to a space, and we especially love to use it in smaller spaces where there is a big impact.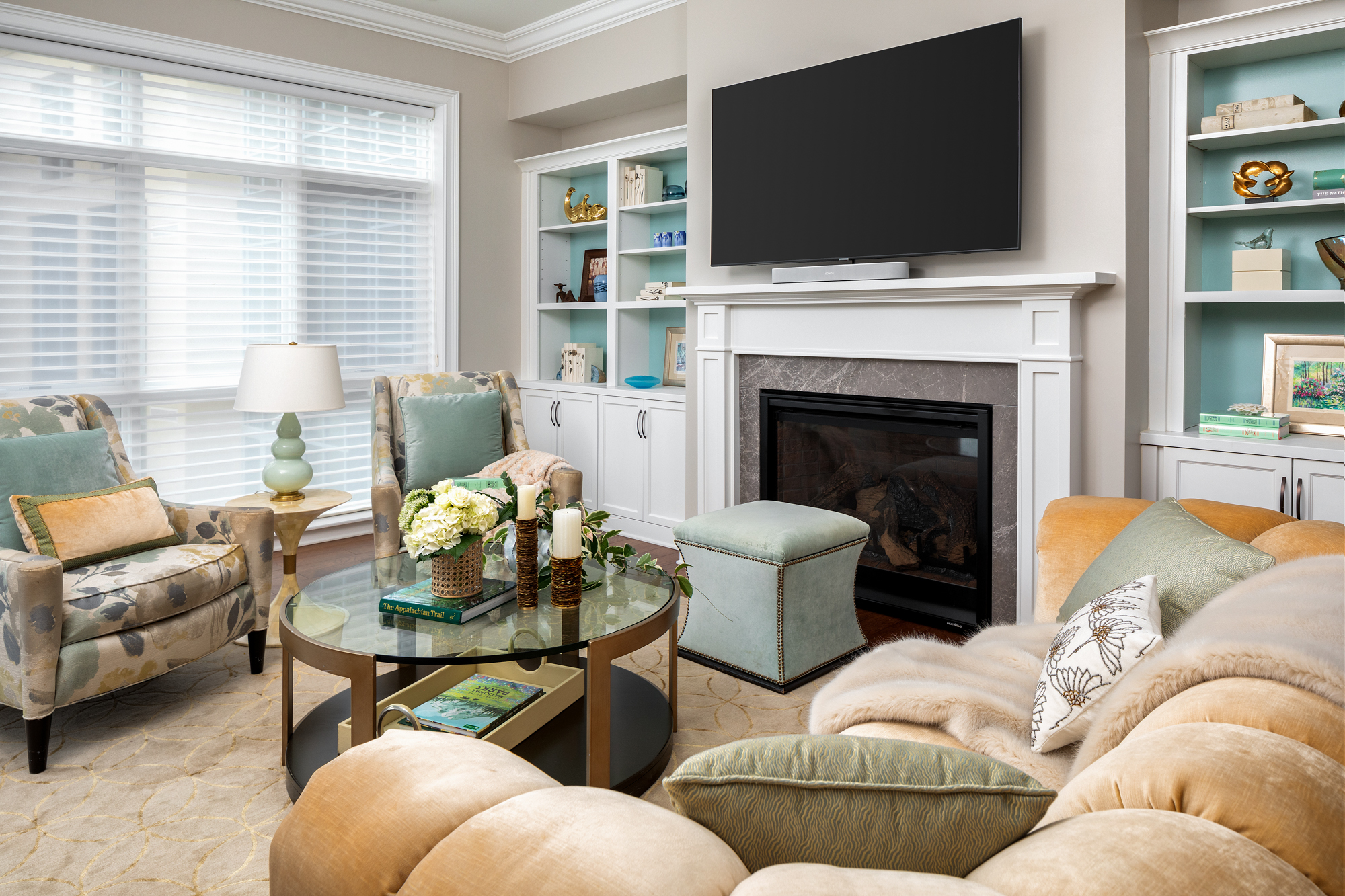 Compliments & contentment
Our client tells us she gets many compliments from family and neighbors about her lovely space. In particular, everyone loves the blue accent color we chose for the back of the bookshelves! For this senior, downsizing has meant less to clean and care for, and more time to focus on family, friends and activities. From a design standpoint, the key was to helping her transition to a smaller space while still maintaining the same level of personal expression that she enjoyed in her previous one. We love that we were able to channel her elegant, feminine and refined style sensibility throughout her unit. The cherished items in her new condo are well-loved and feel like an authentic reflection of the person she is today.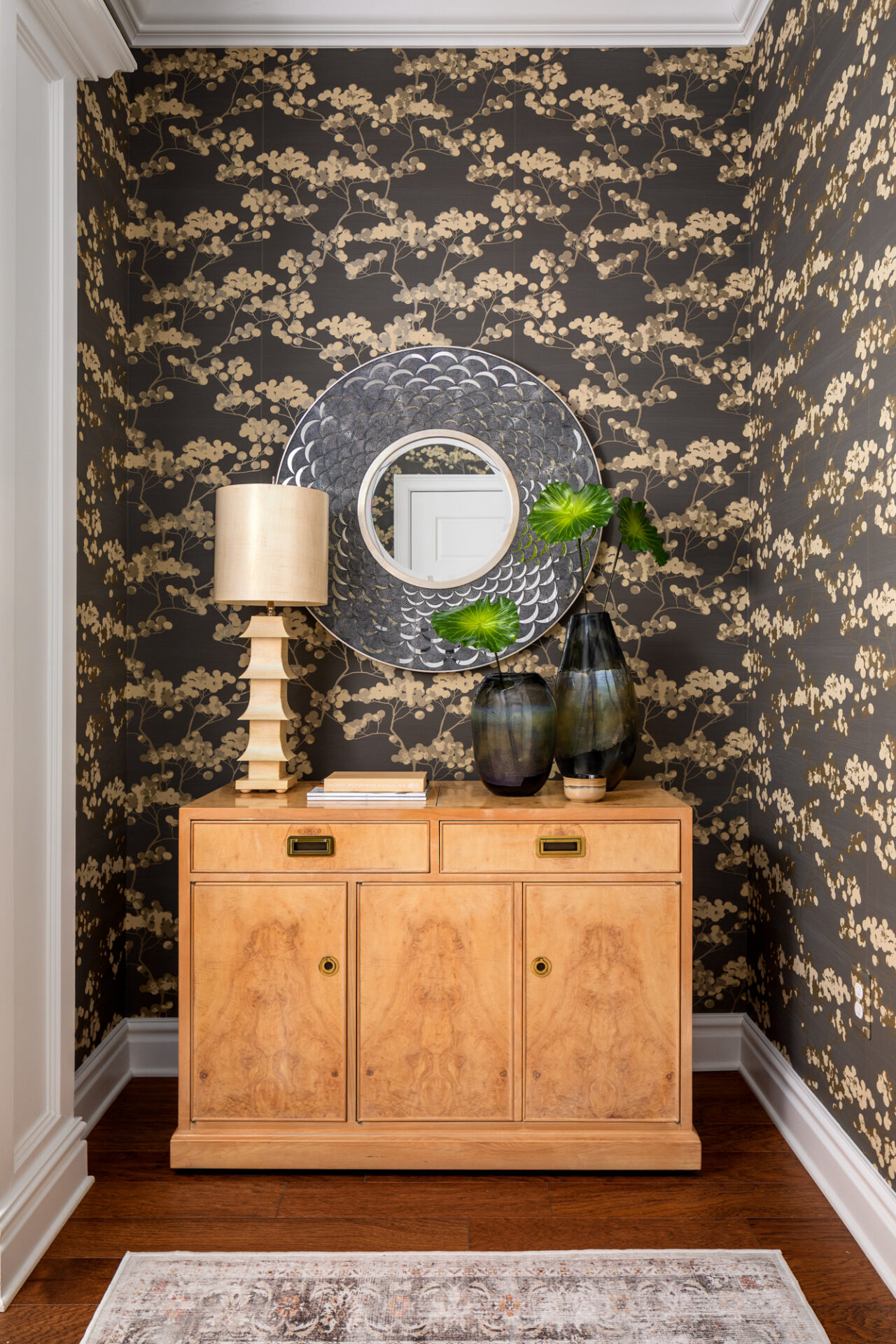 We created this warm and inviting entry foyer for our client with wallpaper and richly detailed furnishings. This puts a personal touch on her entry and makes the experience of returning home serene and calming.