Building a dream home is a huge undertaking – we should know, we went through the process with our own home! When our client of several years reached out to us for help in designing their new home, we were very excited to be part of their journey. Having just welcomed a third child into their family of five, this client knew they'd were going to be in tight quarters until they sized up. It was fortuitous when the lot next door went up for sale via a local builder. Moving would be a lot easier! Still, designing a complete home is more akin to a marathon than a sprint. Here's how the design came together and the beautiful results.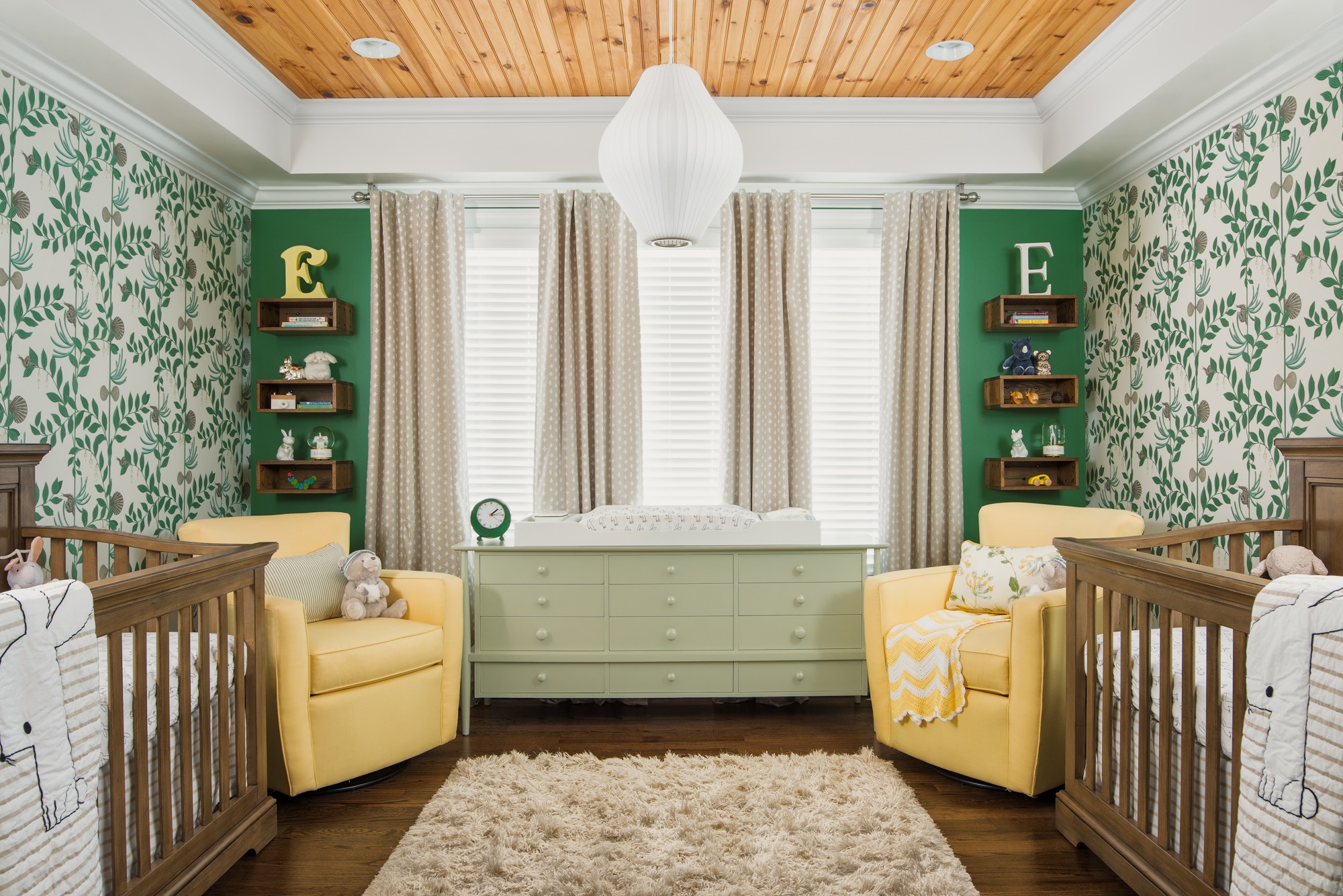 This is the nursery we designed for my client's twins in their previous home.
Creating the design vision and wishlist
As with every project, we started by creating moodboards to capture the look and feel our clients were going for in their dream home. We also discussed their biggest wish list items – a modern linear gas fireplace, a walk-in pantry, and a large kitchen island. Because the client was working with a builder, it was important to get the big items planned into the construction drawing set and factored into the budget up front.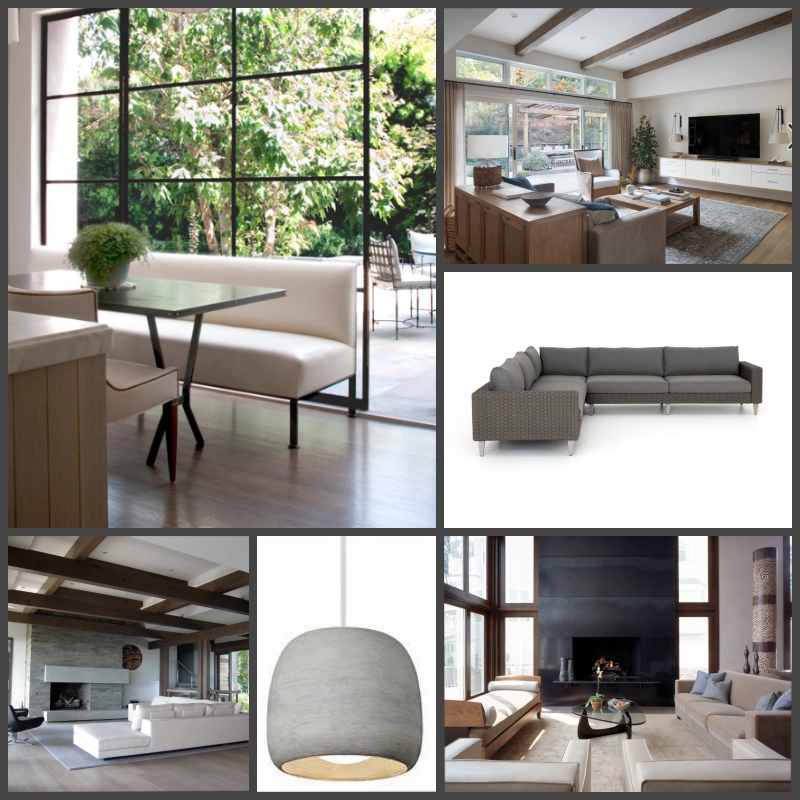 We collected inspiration images drawing upon our client's style and wishlist to create a moodboard for their new custom home.
Drawing the details
With a new build home like this one, and on any renovation project, we develop a set of interior design drawings. These drawings document cabinet layouts, capentry details, tile patterns, lighting layout, and more. It's essential to complete this step prior to the build to make sure the client's design wishes can be accommodated and budgeted. We knew our client wanted some special design elements around the fireplace, which would have a floating concrete hearth, as well as some overhead exposed beams in the great room. Before finalizing, we showed our client a 3-D rendering of the design to make sure it was all exactly as they wanted.
Making all of the selections
Building a home from the ground up means literally HUNDREDS of decisions and selections. As is typical, we started with longest lead time items and items needed first for the construction, including appliances, plumbing fixtures, and exterior features of the home such as windows and roofing. As we made each selection, it was documented by the builder and factored into the project allowances. Next we worked on tile and countertops, which meant multiple visits to local showrooms to look at slabs and tile samples. Then, light fixtures, mirrors, and hardware were selected. Finally, we decided on paint and stain colors, and finalized trim and cabinet decisions. I am definitely simplifying here: the entire process probably took 4-5 months to complete. But we just took it one step at a time. Having defined our client's style upfront: clean, modern, and warm – made it easier to narrow down choices so that the decisions were not too difficult or overwhelming.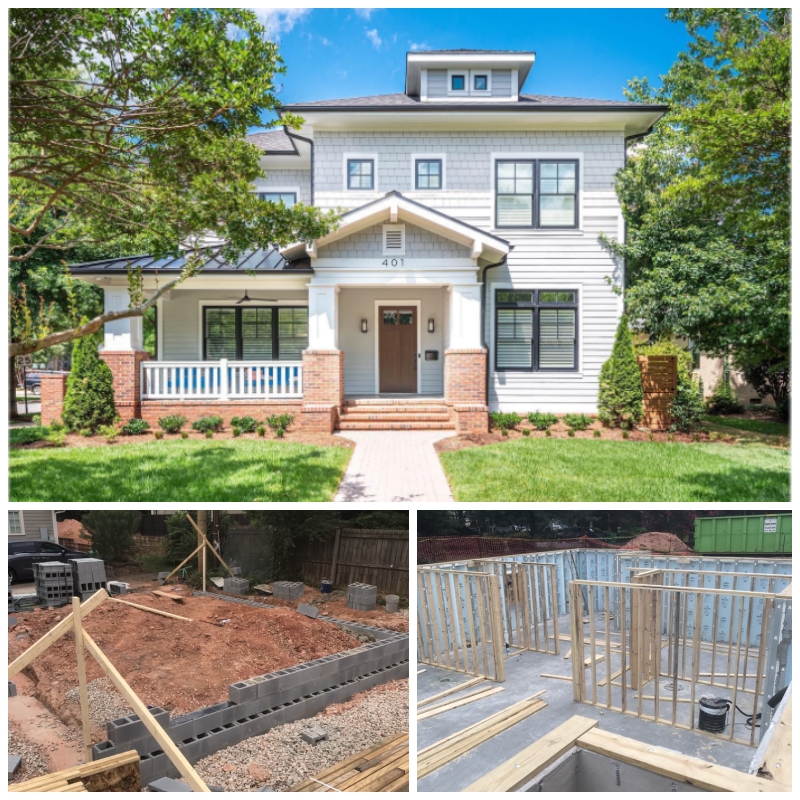 The transformation from vacant lot to beautiful new home was a journey, involving countless decisions, dozens of meetings, and input from a variety of trade specialists – plumbers, electricians, carpenters, installers, and more.
Furnishing & accessorizing the home
With the decisions completed and construction nearly complete, we were able to turn our attention to furnishings. Our client was able to re-use much of the furniture from their previous home, but some of the rooms simply called for new pieces due to the size or function of the space. We sourced and fully furnished the client's great room, kitchen, screen porch, and each of the three child bedrooms. We also sourced accent pieces, art, and wallcovering. Again, knowing the client's style quite well made it easy to find just the right furniture and accents to complement their gorgeous home.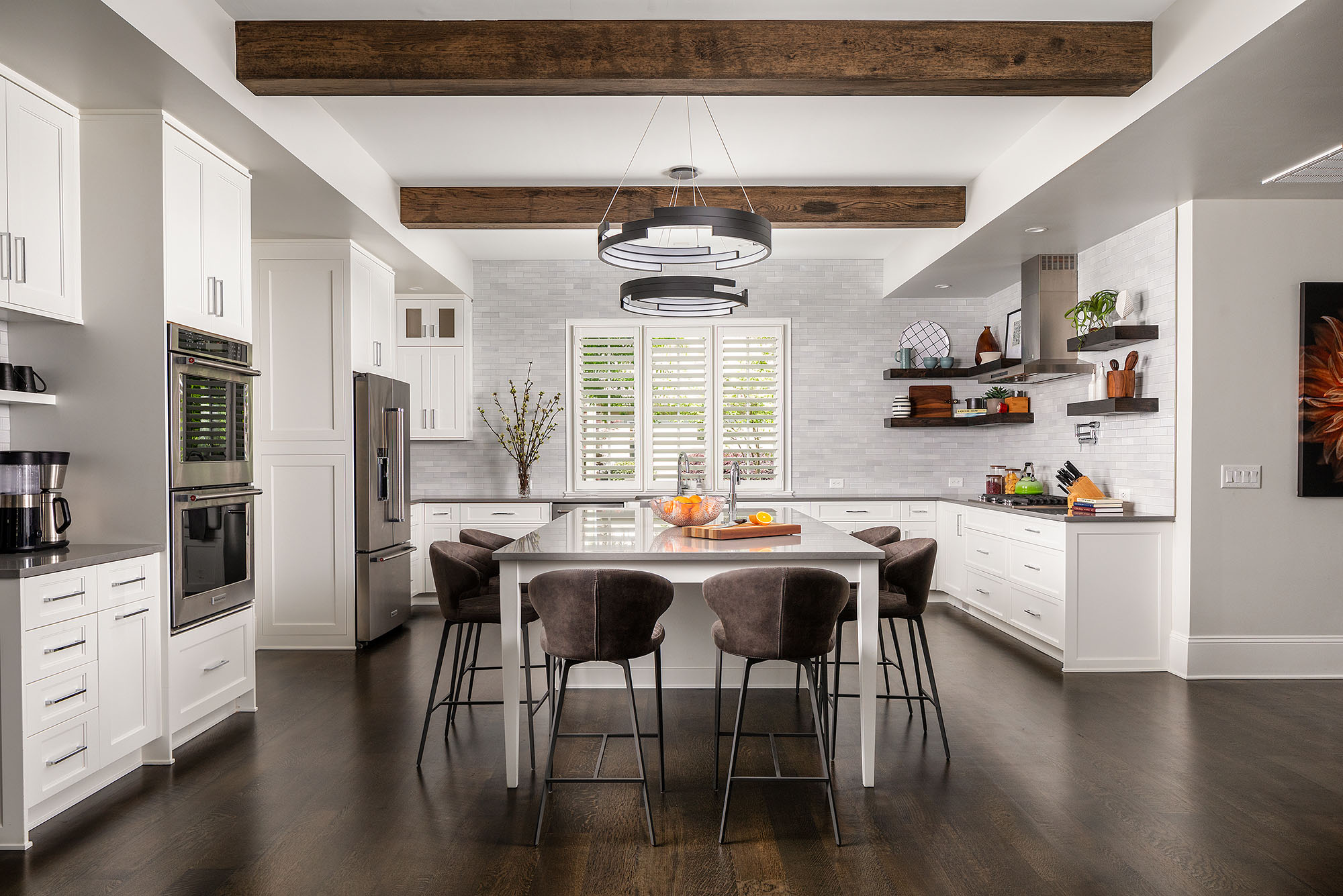 A few of our client's big wish list items – the large island and overhead beams, are seen here. We chose grey quartz countertops and textured subway tile, taken to the ceiling for drama. We love the warmth of the chocolately wood tones against the cool toned materials.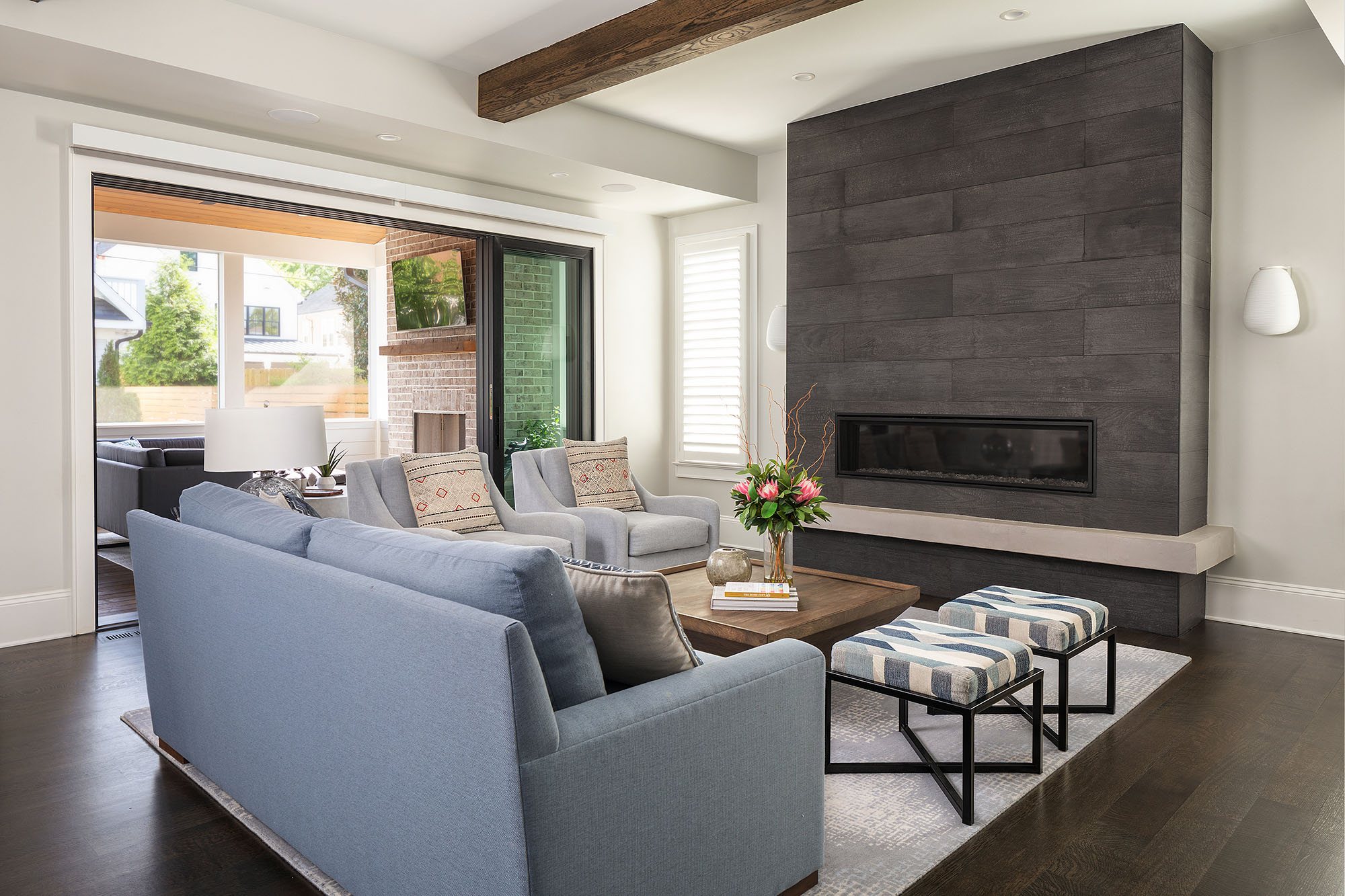 Another wishlist item – the linear gas fireplace with floating hearth seen here. We wrapped the fireplace in large format tile that resembles charred wood. The sofa and chairs were custom made for the space in soft shades of blue.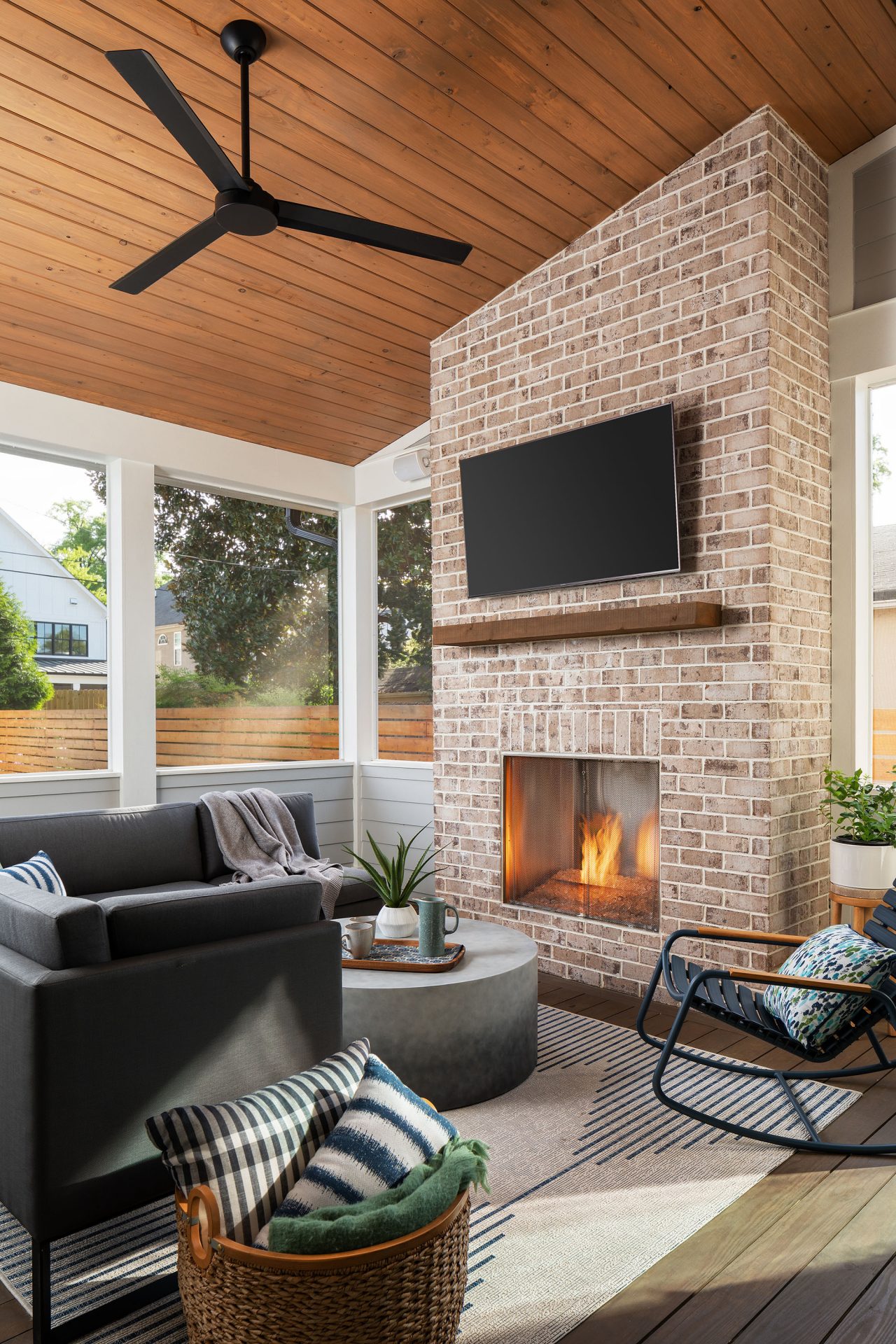 We furnished the screen porch with all-weather upholstery and a modern rocking chair.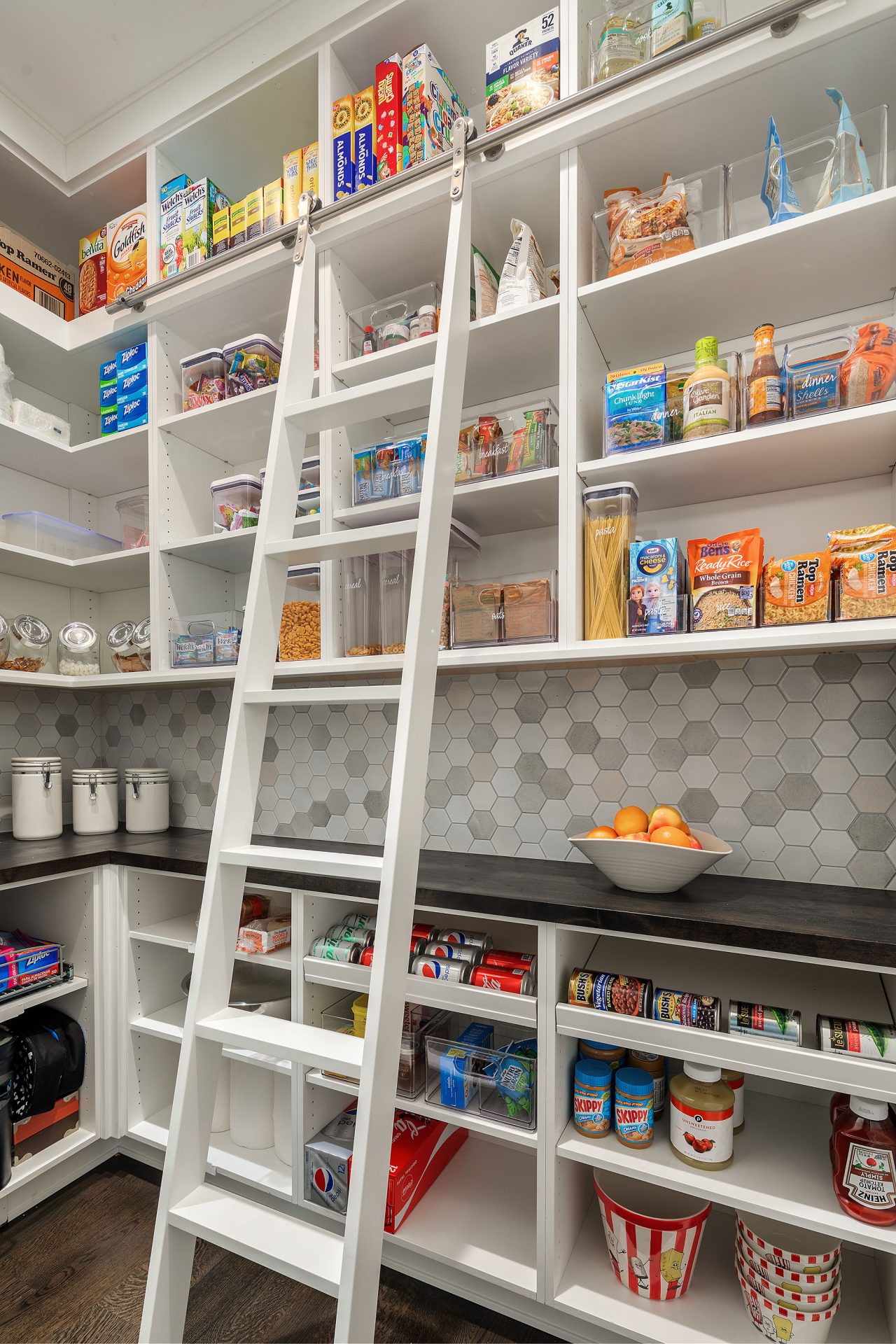 The pantry was designed for easy grab-and-go convenience – with three little ones, that's something my client definitely appreciates!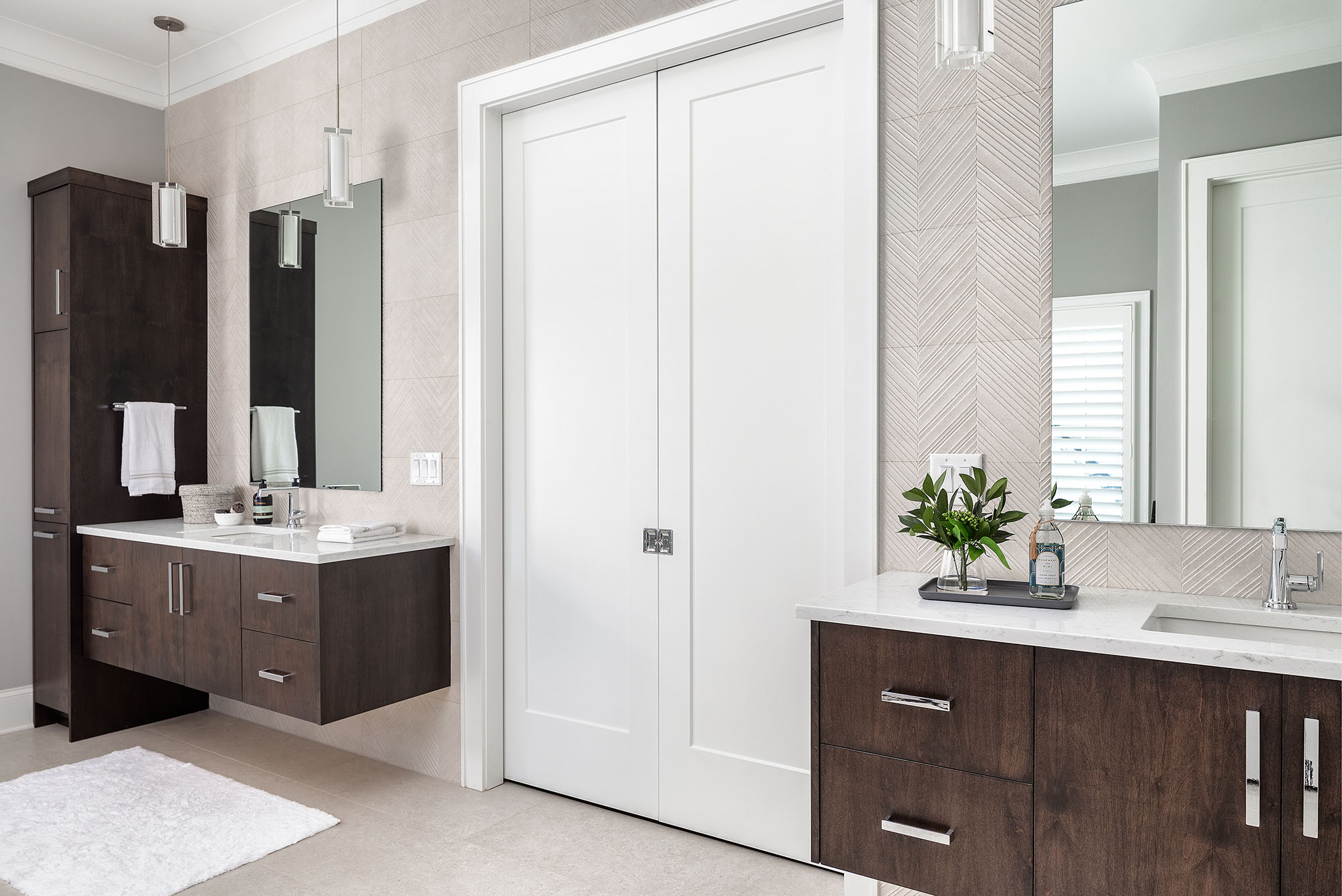 We designed custom his-and-hers floating vanities in the master bath. A chevron-patterned tile was used on the full wall behind the vanities, adding texture and visual interest, and we kept the lighting clean and modernistic with hanging glass pendants.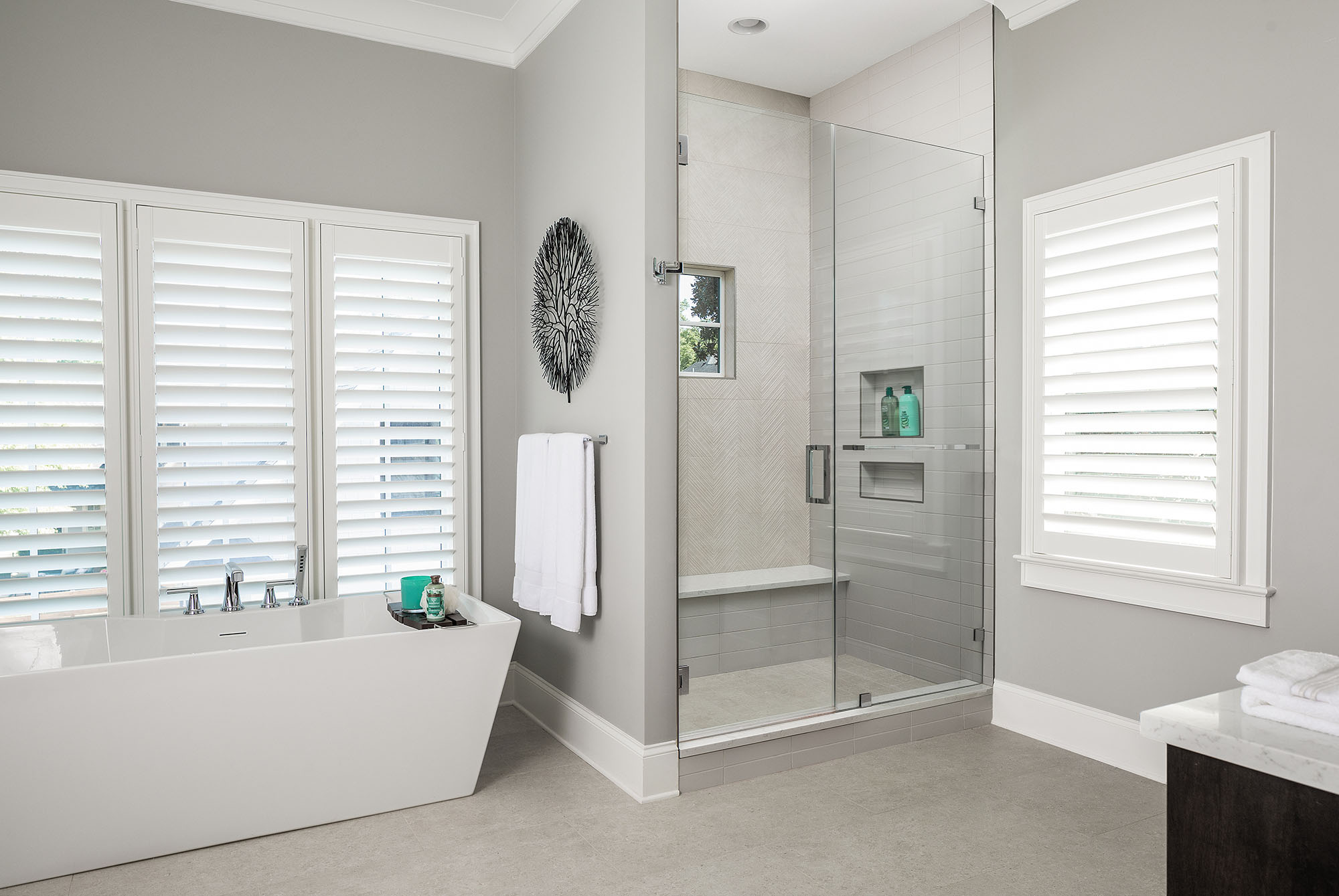 The master bath includes a generously sized shower with built-in bench and a free-standing tub. The chevron textured tile was used as an accent on the back wall of the shower enclosure. 
In total, our client's new construction home took about two years total, a timespan that included initial planning, design, construction, and furnishing. That's certainly a major commitment in time and expense, but the pay-off is a home perfectly tailored to my client's style and busy day-to-day life as parents and professionals. We loved seeing this dream home come together and help our client to create the home their children will grow up in.