If you are considering a major home improvement this year, more than likely you'll be hiring a general contractor to manage the project. As a designer, I get asked for referrals to local contractors all the time. Finding a *good* one is not always easy, and horror stories abound. There are lots of useful internet resources that will walk you through the nuts and bolts of qualifying and hiring a contractor. That's all well and good and necessary, but I'm assuming you already know you need to check for insurance and references. Today I want to focus on the intangibles: is this contractor a good fit for YOU, personally?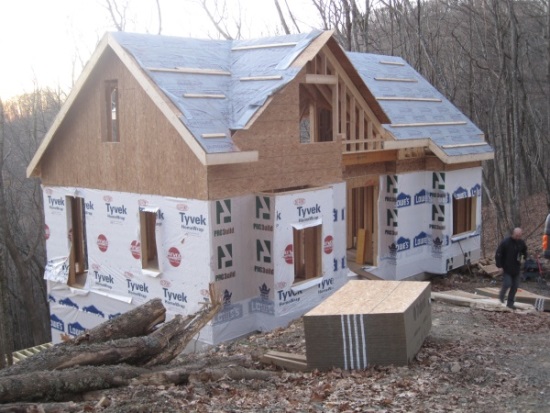 Having worked with a wide range of contractors on projects both personal and professional – the good, the bad, and the lovely – I can attest to the importance of building a positive and trusting professional relationship. This person is going to be a MAJOR player in your life for awhile. He or she (ok, but typically HE) will be working in your home, sometimes while you are still living there. This person will show up, often with a crew of guys, at 7 am while you're still in your bathrobe. He will be at the table when you and your spouse or partner bicker over design decisions. All that in mind, here are five questions to ask when choosing a contractor:
1. Who will be your main, day-to-day contact?
First things first: meet the person who will be on site daily. A lot of builders have a "sales guy" and a "field supervisor", sometimes the same person but not always. So what can happen is they send David to sell you the project. David is smart, charming and adorable. It's kismet! Then the project starts and Eddie shows up at your door. Eddie's a bit rough around the edges. He may know what he's doing, but he's kind of gruff and suddenly you're not so comfortable there in your bathrobe. What happened to David? Oh he may drop by once in awhile, but he's mostly busy with paperwork and marketing. Eddie's your guy. Make sure you know, trust and like Eddie.
2. Does this contractor have experience with your type of project?
In your initial interviews with contractors, ask to see examples of previous work. When my husband and I were in the process of interviewing contractors to build our mountain cabin, they ALL nodded vigorously when we described our "contemporary" vision. "Yes of course, we can build contemporary," they assured us. Then we'd tour their projects: rustic mountain lodges with rough hewn beams and heavy moldings. Not at ALL what I had in mind. Most contractors will claim they can build just about anything, but I have found it's easiest to work with someone who has experience with a similar style project or method of construction to yours. Prepare drawings, photographs and images that illustrate the end result you're aiming for, and bring them to the interview.
3. What are your communication preferences?
Good communication is really THE key ingredient to a successful project. You should feel comfortable interacting with your contractor and bringing concerns to his attention. Find out how he will keep you apprised of progress. Do you expect daily updates or are you comfortable handing over the keys and saying, "call me when it's done"? Ask if he'll keep you in the loop by email, phone or text. When we built our cabin we were managing the process from afar, so our contractor used YouTube videos to share progress updates, get approval on finishing details, and illustrate the design questions he had for me. You should also find out how your contractor will keep you informed of scheduling and where you stand with the budget, two areas that can make or break your project. Does he use a web-based scheduling system? Will he be sending you product invoices for purchases? It's a good idea to ask these questions upfront and make sure your requirements can be accommodated.
4. Who is handling the design?
A great project starts with a great design. Selections need to be made, construction details figured out, materials need to be ordered, and ideally all of these decisions should be documented in the drawings and specifications. The question is, who will do this work, your contractor, a design professional, or you? Some contractors (called design-build firms) include the design component for an additional fee. A more typical general contractor will look to you or the architect/interior designer you've hired, for design decisions. There are advantages and disadvantages to all of these arrangements (which could be an entire blog post unto itself), and to a degree the best approach may depend on the scale and scope of the project. But you need to know what service level you're looking for and be comfortable with your own level of involvement.
5. How does your project fit into the contractor's current or planned workload?
It's fair to ask how many projects your contractor will have on his plate while he's doing work for you. Does he have the time and resources to give your project the attention it deserves? A related issue that might sound silly but isn't: how far does your contractor have to travel to get to your project site? Time on the road is time not on the job. There are advantages to a contractor who lives or has other projects, nearby.
I hope this post has been helpful for anyone planning a renovation! Good luck with your project, and chime in if you have questions or comments.
__________
Tamara Leicester is a licensed interior designer and owner of Tamara Heather Interior Design, LLC. She designs casually elegant interiors with an artistic sensibility, often drawing upon the talent of local artists and craftspeople in her work. Dreaming about updating your space? Learn more at tamaraheatherinteriors.com.