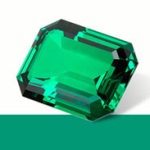 In some of the most talked about color-related news since the Mars Company discontinued the tan M&M, emerald green was recently named the 2013 Color of the Year. The fashion and design world is all buzzing about this jewel-bright hue, which is said to signify growth, prosperity and renewal. Who, you may be wondering, even decides these things? The decree was issued by the Pantone Group, located in Carlstadt, NJ. According to their website, Pantone LLC is the "world-renowned authority on color and provider of color systems and leading technology for the selection and accurate communication of color across a variety of industries." I've often wondered how one might get a job as a color expert with Pantone. I suspect as with all things corporate there is a long slog to the top, probably beginning with an internship in the Nail Polish Naming Department (my all-time favorites: Pink-a-Boo and Frankly Scarlett).
Pantone color specialist Leatrice Eiseman explained the selection in a recent Wall Street Journal article (Dec 5 2012) saying, "It's really a throwback to the 1980s." While that comment fills me with dread at the thought that mauve might be next to stage a comeback, I actually have fond memories of the last time emerald green enjoyed widespread popularity. In fact, I wore an emerald prom dress in 1991 (which was still the 1980's in upstate New York).
With emerald green taking the spotlight this year, I thought it would be interesting take a look back at the most popular green hues of the past century. It's fascinating to me the way color, just like an evocative scent, can squarely capture a memory or moment in time. From jazz-age jade to mid-century mint, the color green itself is a historical marker. Let's take a look:
Pre-WWII: Jade Green
This verdant, mid-tone green first became popular in the 1920's. It is the color most commonly associated with jadeite, or green milk glass.
Mid-Century: Mint Green
Powdery pastels, including the pale turquoise color also known as mint or seafoam green reflected the optimism of the years following WWII.
Late 1960's-1970's: Avocado
This dark, earthy, yellow-toned green surfaced during a time of renewed interest in environmentalism. The color pretty much characterized the decade, and was often paired with harvest gold and burnt orange.
1980's: Emerald Green
Also the color of money, emerald green represented the wealth and luxury that so fascinated the Dynasty-watching yuppies of the 1980's.
1990's: Hunter Green
The grunge era ushered in a palette of dark, muted colors. Hunter green (also called forest green) was the color of choice for  flannel shirts and Ford Explorers.
The Aughts: Sage Green
I think Martha Stewart is single-handedly responsible for introducing this tasteful, pale grey-green that was ubiquitous throughout the last decade. The color also became associated with the widespread fervor for all things "organic" and "natural".
While it's too soon to say whether emerald or some other variant of green will characterize the 20-teens, I think we can safely expect some form of green to always be a part of the culture and mood of any era. As a color so closely associated with nature and all things living, green never really goes out of style. What shade is your favorite?
——
Tamara Leicester is a licensed interior designer and owner of Tamara Heather Interior Design, LLC. She designs casually elegant interiors with an artistic sensibility, often drawing upon the talent of local artists and craftspeople in her work. Dreaming about updating your space? Learn more at tamaraheatherinteriors.com.