Do you have a room that simply does not have a good place for your TV? You're not alone. It's probably the challenge that comes up most frequently when I work with clients. Houses built before 1950 were certainly not designed to accommodate televisions, and I would argue that most houses today are still not designed with proper consideration for optimum TV placement. The most common problems I see are lack of sufficient wall space (due to window placement, doorways, etc) and too-high traditionally styled mantels that lend themselves neither aesthetically nor functionally to hosting a TV screen. Over the years I've solved the TV problem both for clients and for myself in my own home in a number of different ways. Here are a few of my favorite solutions:
1. Challenge: No Wall Space; Solution: Create a Room Divider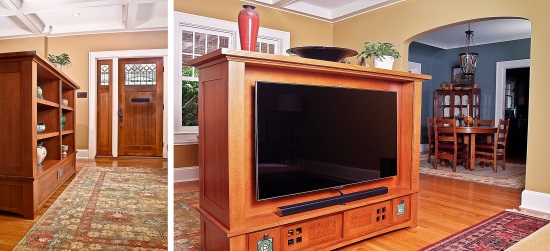 This client's lovely 1920's Craftsman home was most definitely never designed with any inkling of its future occupants binge-watching The Walking Dead. Living room wall space was extremely limited due to window and door placement and putting the TV over the antique mantel was simply a no-go. For the record, I consider putting the TV over the fireplace to be a last resort when there is no other option. More on that in a minute. Anyway, I solved the room's double challenge of lack of an entry foyer and lack of TV space by designing a large oak Arts & Crafts style cabinet that acts as a room divider and media console. It has shelving on the entry side, and houses TV/components on the other. And it looks beautiful and is perfectly in keeping with the homeowner's style. Win-win-win!
2. Challenge: Mantel Too High; Solution: Lower the Mantel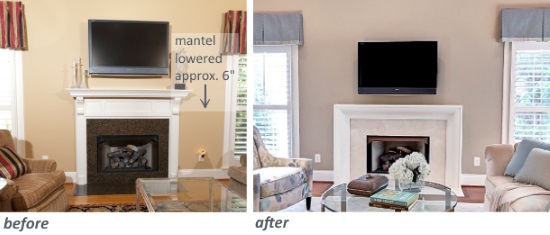 OK, remember how I said I HATE putting the TV over the fireplace? I really do, and advise clients against it. But sometimes it is really is the only location given the layout of the room. I think this is a major failing of contemporary home builders who neglect to consider furniture placement when they design rooms. Besides aesthetic issues, fireplace mantels are too high, in general, for comfortable TV watching. In this room I was able to ameliorate the situation by redesigning the fireplace mantel and surround. I created a more contemporary looking streamlined design in keeping with the client's style, and lowered the mantel about 6 inches, as much as possible given code restrictions. It still may not be ideal, but it's a lot better.
3. Challenge: Mantel Too High; Solution: Change the Focal Point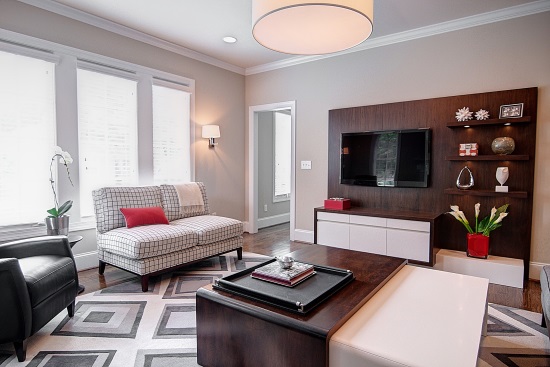 This contemporary home also had a too-high fireplace mantel (it's on the wall not pictured). Fortunately the room offered the luxury of a large expanse of wall space directly opposite the fireplace, so I was able to use that space to create a secondary focal point for the television. I designed this contemporary wall unit with a walnut back panel that allows the TV to blend nicely into the space. The doors/drawers below house components, DVD's, etc, and the shelving provides display for lovely art objects.
4. Challenge: Windows in the Way; Solution: Pull a Disappearing Act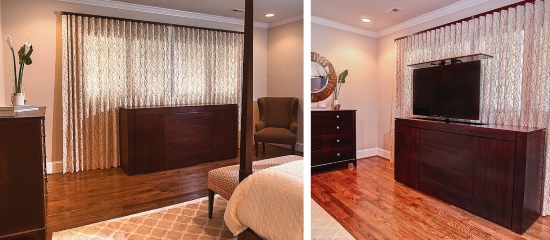 This client wanted to be able to watch TV from the comfort of their 4-poster bed. The problem? A wide bank of plantation-shuttered windows spanned the wall opposite the bed. A TV placed in front of those windows would have been unsightly and the very opposite of restful. I found the solution in the form of a TV cabinet with a remote-controlled mechanical lift that allows the TV to be raised and lowered at the push of a button. Additionally, I specified custom-made ripple-fold draperies to provide additional light control and unify the backdrop behind the cabinet.
5. Other Alternatives
While physical challenges often limit TV placement in a room, the room may not be ideal for a television for many other reasons – noise factors, aesthetics, or other competing functions such as entertaining or quiet reading. If that's the case, you might consider re-purposing a secondary, under-utilized space such as a guest bedroom or dining room as a TV room.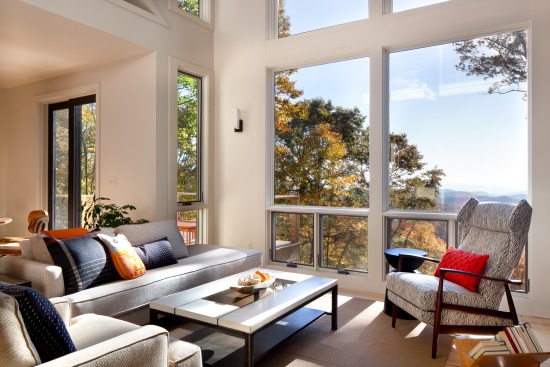 When we built our mountain retreat, we knew right from the start we didn't want a TV in the main living room (pictured above). We wanted nothing to compete with those stunning mountain views. Instead, we were able to carve out a little nook in the basement for a small sectional and TV.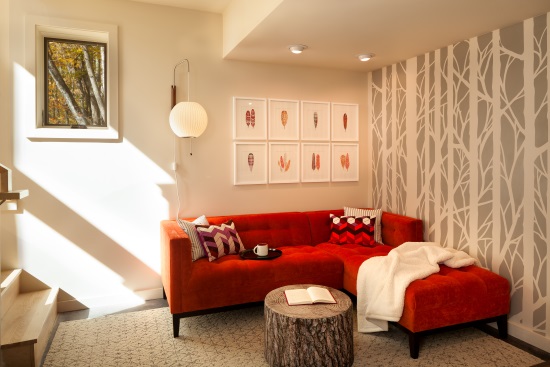 In the photo above, the TV sits on a cabinet in front of the wall not pictured. We really don't watch a lot of TV when we're in the mountains, so it works just fine.
Do you have a TV-challenged room? Bring it on! Give me a call and let's talk about how we can make your space work for you.
——
Tamara Leicester is a licensed interior designer and owner of Tamara Heather Interior Design, LLC. She designs casually elegant interiors with an artistic sensibility, often drawing upon the talent of local artists and craftspeople in her work. Dreaming about updating your space? Learn more at tamaraheatherinteriors.com.