Recently I've been sharing the results of some of my DIY client spaces. I call it DIY design when I provide the ideas, plans, and color palette, and my clients handle the shopping, purchasing and implementation on their own. One client in particular has been working with me for the past year or so this way. I created DIY plans for five of her rooms, and she's been executing them one at a time. Today I'm sharing the results for her master and guest bedrooms. I think this client has done a great job following the design plans, transforming the spaces from so-so to swoon-worthy: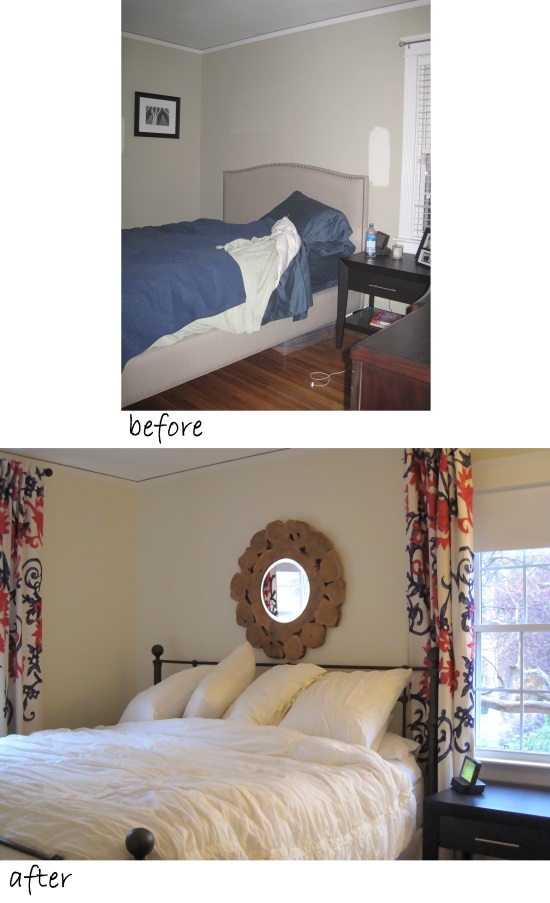 The master bedroom seen above was refreshed with vanilla-hued paint, vintage-style iron bed and fluffy white bedding, and a distinctive mirror and drapery. It's a perfect reflection of this client's style, which I'd characterize as warm-eclectic. She loves the color coral, so we brought that in with the drapery pattern and a fantastic vintage trunk she found at the flea market (not shown).
Second, we have the guest bedroom:
As you can see, the guest room was sparsely furnished to begin with, so it was essentially a blank slate. The linen upholstered bed frame was moved over from the master, and supplemented with new side tables, drapes and accents. The walls were painted that same vanilla hue as the master, but the overall palette changed for this room to one of ivory, indigo and blue-grey. In this instance I did help my client source an area rug (not shown) and the barnwood-framed horse art print. A single piece of art can bring so much personality to a space!
It's always to gratifying for me to see my clients put in all the hard work of implementing a space design and have it pay off big time with rooms they love. As the rest of this client's home comes together I'll look forward to sharing more of her success story in the coming months!
__________
Tamara Leicester is a licensed interior designer and owner of Tamara Heather Interior Design, LLC. She designs casually elegant interiors with an artistic sensibility, often drawing upon the talent of local artists and craftspeople in her work. Dreaming about updating your space? Learn more at tamaraheatherinteriors.com.